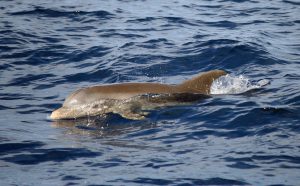 On Thursday, I was able to join the team of visiting researchers who have chartered Bimini Adventures to explore their 360-degree camera and hydrophone system designed to record bow riding dolphins. It was great to catch up with these folks, whom I've had the pleasure of knowing for years now. Though there was a light chop to the sea, it actually made the search for dolphins more comfortable – at least there was a little breeze to take the edge off the August heat!
As we diligently searched for dolphins, we came upon a scattered group of at least three bottlenose dolphins. I was able to grab a few dorsal fin photographs for future photo-ID matching, but the team decided the dolphin group wasn't right for their goals: the dolphins were scattered and at the edge of the shallow and deep water. So, we continued our search…
Unfortunately, that was the only dolphin sighting of the day. The team had a great attitude though; grateful for the loads of data they had already collected this week. While I wait for my next day on the boat, we're all keeping an eye on weather in the tropics. Tropical Storm Harvey is unlikely to impact Bimini, but we're waiting to see what the disturbance behind it does.
Stay tuned,
Kel