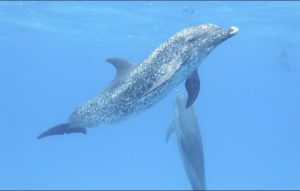 As DCP interns, we have settled into the rhythm of our days on Bimini. Wake up to the bright sunshine, make a pot of coffee (or two, or three), and settle into our morning office tasks. Apart from video logging and photo identification, we input the previous day's sighting log from the boat into the computer, make sure that all of the research equipment is charged and ready for the day's boat trip, write field reports, and update DCP's social media accounts (Did you know you can follow our dolphins on Facebook?! Simply search DCP followed by the dolphin's name!). Wednesday morning followed a similar pattern. With delicious coffee in our mugs and uplifting music in the background we completed a successful morning of work.
After lunch it was Kaiya's turn to join Captain Al and his guests on the boat. While she was gone, Tori and Patrick continued to work on daily tasks inside, away from the midday heat. Tori ventured outside for some relaxation on the beach, but only lasted about an hour before the sun's intensity chased her back inside. With a rerun of the Shark Week episode featuring Kel playing in the background, the rest of the afternoon was spent making progress on video logs and bottlenose ID projects.
Kaiya:
My afternoon on the boat was fairly similar to Patrick's yesterday. Soon after emerging from the channel that separates North Bimini from South Bimini we came across a group of bottlenose dolphins. Unfortunately, they were spending more time under the water than at the surface, probably crater feeding, or searching for prey items in the sand. This made it difficult for us to track them and take photos of their dorsal fins for future identification so Captain Al steered us toward spotted dolphin grounds. As we continued on our way, we all kept our eyes on the horizon, searching for dorsals amongst the waves. Captain Al cruised for awhile before we finally found a group of spotteds playfully traveling. From the brief surface observation, I was able to count nine individuals, but then it was time to try an underwater encounter. We slipped into the water and headed towards the dolphins, but quickly realize they were simply traveling too fast for us to keep up. Once back on the boat, we were able to watch as they played with seaweed, rolled over (showing us their pink bellies!), and engaged in lots of pectoral fin contact. Though we did not try another encounter, we enjoyed watching them for the next little while, which allowed me to identify Split Jaw (#22 – here's a photo from yesterday's video), Leslie (#80), and Swoosh (#36)! We were also able to watch the playful interactions of two calves zooming around the adults and sub-adults. After awhile the group disappeared into the waves and we began to head back to the dock, enjoying the beautiful Bahamian sunshine (through many layers of sunscreen) and the turquoise waters all the way!
Until tomorrow (and Tori's adventures on the boat),
Patrick, Tori, and Kaiya