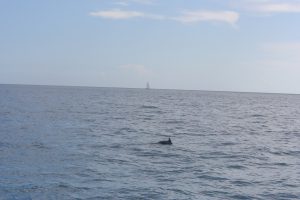 Wednesday started bright and early for Kel and the Trio as we began our day with an 8:30 am inflatable boat pick-up by the Captain of the Coral Reef II, the research vessel for the Shedd Aqaurium, and we were taken back out to sea where the ship was anchored and awaiting us. On this particular morning we were scheduled to do a DCP information session with the High School Marine Biology program students currently on board, and as usual, Kel delivered an enthralling presentation, and these awesome students were absolutely engaged, knowledgeable, and inquisitive. (We love this!) The Trio shared their different educational backgrounds and paths, career plans, and how they came to be interns for DCP, and fielded any questions the students had.
Once back on dry land, Kel and the Trio headed down "the Pit" (DCP workspace) for some collective work-time and each tried to get as much done as possible before heading over to the Sea Crest for another information session with this week's Sea Crest group. We thoroughly enjoy these information sessions as well, as it provides us the opportunity to get to know each group personally, and share with them our passion for DCP and its mission. After a lovely chat, the trip boarded "Renegade" and got underway in our search for dolphins.
There was a flurry of animal activity while leaving the channel today, and we were fortunate to have a bull shark and multiple rays bid us farewell as we headed out into open water. With Patrick on the bridge, and Kaiya and Tori on the bow, the Trio was ready for another day's adventure. A massive squall could easily be seen to the NW, but fortunately for us, we weren't going that way, but we still kept our guards up while watching the lightning strike in the distance. Pretty soon, those tell tale fins were spotted, and we found a group of at least two bottlenose dolphins. In times like this, when the dolphins appear to be a little hesitant to get close to the boat, we've got a surface camera at the ready (with a great zoom lens), and Kaiya quickly began taking pictures of them to assist with our photo-ID catalog. They kept their distance and eventually left us, so we pressed on and continued our search.
After about thirty minutes, dolphins could be seen leaping in the distance, seemingly chasing after fish, so we approached cautiously, as not to completely disturb their feeding. Before we were able to get close, these spotted dolphins could be seen breaching the water and slapping around the fish they were feeding on, and a sub-adult was seen approaching the bow with a fish in its jaws. Though it was just a pair of dolphins, one juvenile and one sub-adult, their willingness to stay close to the boat and bow ride gave everyone on board the opportunity to marvel at their beauty and graceful swimming yet again. Eager to get in the water with them, everyone began donning their masks, fins and snorkels, including Patrick, who was ready with the DCP video camera. Unfortunately, these two dolphins seemed to be more interested in feeding and didn't stick around long enough for an encounter, but the passengers jumped in the water anyway for a much needed swim break. The spotteds could still be seen leaping and flipping in the distance, chasing after fish, so we opted to leave the dolphins to their meal, and start making our way back towards Bimini. Regrettably, those were our only sightings for the day, and we headed back towards the dock, hoping that tomorrow (the last boat trip of the week) will bring one last incredible encounter for this group.
Kel and the Trio signing off after a long day…