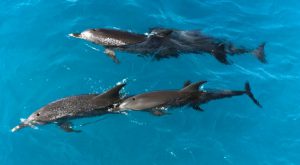 After such an awesome boat trip on Sunday, the DCP crew was very excited to get back on the water on Monday, after a morning of office work, of course. With a successful amount of work done, we, the interns, headed to the boat for their first solo trip, without either Kel or Nicole. However, thanks to their excellent teaching, we felt confident and ready to go. Once everybody was aboard the boat, we pushed off for a prompt 3pm departure. Unlike yesterday, we did not see dolphins as soon as we came out of the channel. Instead, after a long search, we were greeted by a group of spotted dolphins that included three juveniles, a sub-adult, and an adult who were all ready to bow ride. The dolphins amazed the eco-tour guests with their antics in front of the boat, gliding along and occasionally showing us their white bellies.
After about ten minutes of observation from the boat, Captain Al gave the signal for swimmers to get ready with their masks, fins, and snorkels. Without Kel or Nicole on the boat, it was our job to make sure to capture good video footage, something that they make look easy. Today it was Kaiya's turn and she geared up with the rest of the guests, video camera in hand. The underwater encounter began with two of the juvenile spotteds. We observed as they swam through the water together, exchanging rubs with their pectoral fins and playing with sargassum. They also began to play with a large piece of plastic that they found floating in the waves. One swam with the impromptu toy draped over its fluke before passing it to the other, and back and forth. After about twenty minutes the two dolphins were joined by other dolphins, most likely those that we had seen at the beginning of the sighting. The swimmers were able to watch this larger group for a few minutes before it was time to head back to the boat. Overall, the swim was a wonderful observation of object play and tactile contact.
As the boat turned south and headed towards home, we could hear the animated voices of the guests as they described what the dolphin swim was like for them. Two days in a row, this group has lucked out with what they have described as "magical" experiences! Though we were headed home, we were not yet done with dolphins for the day! We passed another group of bottlenose as we motored parallel to North Bimini's shore. Though it was too late in the evening to stop for a swim, we were able to have a brief observation from the boat. It was the perfect ending to a beautiful, Bahamian day. Hopefully tomorrow will be the same!
Until then,
Patrick, Tori, and Kaiya