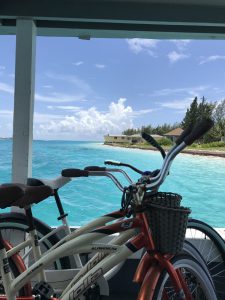 Our first week without boat trips was a change of pace. We had more time to relax and explore the island, but it also offered us more time to take a significant chunk out of our video logs and bottlenose photo-ID. After a very productive work week, we capped it off with an eventful Friday and Saturday. On Friday, after a morning of work, we set off for the Bimini Biological Field Station (aka "Shark Lab") around two. We took the water taxi over to South Bimini and rode our bike to the lab. We were a little early so it gave us the chance to bike around the island and see the houses and scenery. We arrived at the Shark Lab and were greeted by our three tour guides. We chatted for a few minutes and got acquainted with them by the time the rest of the tour group arrived. We then were lead to their pens they have on the beach behind the lab and we got a good look at a young lemon shark and nurse shark as the Shark Lab volunteers held them and explained their anatomy and behavior. They also gave the group a brief introduction into the research and studies they are currently conducting. On our way back to North Bimini, Kaiya noticed another boat that ran aground at the southern tip of the North Island, presumably trying to take a short cut out of the channel. This added a little excitement to our island experience, with two boats having run aground here just this week. Afterwards, Tori headed home to work on more video logs, while Kaiya and Patrick headed to the northern end of the island to observe the protest that was taking place through Resorts World Bimini. The locals were protesting the continued destruction of the mangroves for a golf course. In short, this is a big problem because the mangroves are important habitats and nurseries to many species of marine life, including sharks, rays, lobster, conch and many fishes. Along with this, mangroves are important to protecting the island during natural disasters, such as hurricanes, they are important carbon captures and they have cultural value to this island community. It was awesome to see and hear the passion from locals to support their environment.
After a full Friday, we started early on Saturday as well. One of the many ways Kel helps the island is by volunteering her time when the veterinarian, Dr. Grant, comes to town. He began coming to Bimini when the stray dog and cat population got out of hand many years ago. Today, thanks to the collective effort from many people around the island and support from folks around the world, the stray animal population is well managed and under control. We helped Kel out by hanging flyers last week, and Saturday Patrick and Kaiya went with her to volunteer some extra hands if needed at the vet clinic. Unfortunately, Tori is allergic to dogs so couldn't help out as well, instead she did some work at home, did a mini beach clean-up outside the house, and went for a swim. We were joined at the vet clinic by a few Shark Lab volunteers as well. After a relatively slow morning, the vet offered to buy us all lunch from The Big Game Club (Thank you, Dr. Grant!!!). We had the time to get to know the other volunteers and Dr. Grant over lunch. After lunch, we had quite a few clients. Around four p.m., Dr. Grant, Patrick, and two of the Shark Lab volunteers went to make a few house calls up the island. Meanwhile, Kaiya and one of the Shark Lab managers hung back in case any more visitors showed up. On our first house call there were four big dogs to give vaccines and medicine too. A once, potentially, unpredictable pit bull ended up being Patrick's favorite patient of the day. Immediately after we finished up with him and restraining him to make sure he couldn't hurt anyone, he plopped over, tongue hanging out, begging for belly rubs. After another quick stop we headed back to Kaiya and Ches around 6:30 pm. It was a long, but very rewarding day for us. We went home and then remembered the Bimini Junkanoo summer festival was getting underway in Alice Town. The Trio decided to go check it out and get a genuine Bahamian experience. We enjoyed conch fritters and a Kalik, while watching the watermelon and pineapple eating contest, the fashion show, and live band. It was a very full and fun weekend and we're extremely excited to get back out on the boat with dolphins on Sunday!
Until then,
Kel and the Trio, signing off.