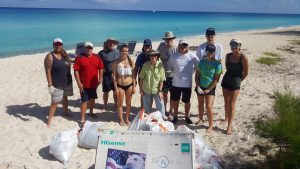 Wednesday had a different start than our days so far on Bimini. We met DCP's eco tour guests near the Sea Crest for a morning of beach clean-up. We all grabbed our trash bags, put on our gloves, and spread out along the sand in search of debris. As we worked, we discussed with the guests our conflicting feelings about the morning's activity. On one hand we were happy to be helping pick up the garbage in order to maintain a healthy environment, both on and off the shore. But on the other hand, we were disappointed that there was so much trash to be picked up in the first place. We could tell that much of the trash had washed up onto the beach in the waves, reminding us that we all need to do our part, no matter where in the world we live or visit. One thing that everyone can do is say no to disposable plastic items, such as drinking straws and plastic bags, and opt for reusable ones instead!
Once we had more than five full bags of trash, a bag of recyclables, a tire, and multiple cardboard boxes, it was time for a quick dip. The water felt amazingly refreshing after a morning in the hot sun and humidity, motivating us to finish the rest of our morning tasks. After a few more hours of office work for the DCP team and different adventures for the guests, we were ready for our 3 pm departure. Though the seas were calm at the marina, the open ocean was a different story. The large swells and 95 degrees temperature (which the forecast said felt like 106 degrees, thanks to the humidity) made for an interesting afternoon. We pushed through the waves (and drank lots of water) as we continued to search for our elusive friends. A little after 4 pm, Captain Al saw a small group in the distance. To our delight, we were soon watching four bottlenose and a single juvenile spotted frolicking around the boat. After a little while, the bottlenose disappeared and the spotted led us from sargassum patch to sargassum patch as it playfully traveled amongst the waves. Kel was able to get a brief underwater encounter, but the dolphin did not stick around long enough for anybody else to see. However, it provided the perfect opportunity for us to cool off with a brief swim break.
To everybody's delight, this was not to be our only dolphin encounter for the day. Two hours later, we found ourselves surrounded by six spotted dolphins with some very familiar faces among them! In the group was Lil' Jess (#35), Swoosh (#36) and her calf, Tim (#69), and unnamed #102 (she is waiting for her name)! After a brief observation from the boat, Captains Al and Audley decided we could try an underwater encounter. To our satisfaction, some of the dolphins were willing to stick around and swim with us for over half an hour. Kel was able to get some great video data while the dolphins delighted the ecotour guests with their antics and acrobatics. Overall it was a fabulous day out on the water and we cannot wait for a wonderful Thursday as well.
Until then,
Kaiya, Tori, Patrick, Nicole & Kel