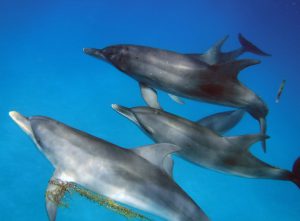 Friday, June 30th, began the weekend for the DCP team. Working half days allowed us (Patrick, Tori, and Kaiya) to begin to explore the island that we are currently calling home. On Friday we took a break from the water to bike north to restock our groceries and hunt down our first round of Bimini Bread. Apart from Patrick's flat tire, it was an enjoyable and productive day. However, by the time Saturday rolled around, we were itching to get back into the water. After diligently working on our office tasks, we took a snorkel trip around the southern tip of North Bimini. To our extreme delight, a squadron of four cuttlefish appeared out of the blue. We watched as they changed their coloring from a deep maroon to a translucent silvery, white. While we are technically on the island to study the dolphins, it is a wonderful treat to be able to observe the other species that inhabit this area.
On Sunday it was time to welcome DCP's new round of ecotour guests who we have eagerly been awaiting. The entire group, including Kel, Nicole, the interns, and all of the guests were able to gather for introductions and an overview of the week before heading out on a 15:00 boat trip. After a brief search, our afternoon quickly became one giant sighting as we were able to observe first hand why dolphins are said to live in a "fission-fusion" society. Over the course of two hours we hung around as different groups of Atlantic spotted dolphins came and went, continually changing who they were interacting with. While we only saw some individuals once, we continued to see others repeatedly throughout the afternoon. By the end of the day our tally of identified dolphins included Romeo (#10), Split Jaw (#22), Lil' Jess (#35), Swoosh (#36), Tim (#69), Paul (#99), possibly Sea Beagle (#106), and other recognizable dolphins, including some calves. We were even able to spot some individuals that were only added to the catalog yesterday!
Just as it is fun to identify the individual dolphins, we also enjoy observing their behaviors. Today was no exception. The dolphins put on quite a show as they played with sargassum, bubbles, and each other. They were also chasing mackerel, riding the bow, and exhibiting highly social behaviors, including lots of tactile contact. All in all, it was a wonderful day for all things spotted dolphin! This week's DCP guests, both returning and new, took today's wonderful encounters as a good sign for the rest of the week's boat trips. Hopefully we will have just as much activity and excitement over the next few days!
Until tomorrow,
Patrick, Tori, Kaiya, Nicole & Kaiya