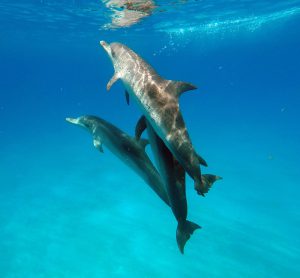 We kicked Thursday morning off by starting our newly implemented DCP work routine of photo ID sorting and data entry. To the delight of the Trio (Patrick, Tori & Kaiya), Kel joined us for an increased group work effort, and answer any questions we might have at this point. After a quick lunch break, it was off to the dock for our afternoon boat ride in search of the dolphins.
Once aboard the boat with Nicole, Captain Al, Captain Audley, and the eco-tour guests, Thursday turned out to be quite the day for dolphin encounters! Our journey began with a snorkel trip to Bimini Road, where everyone was delighted with their experience in the crystal clear water…it was so inviting, even Captain Al jumped in with us. After the snorkeling, we headed north in search of the familiar splashes which tell us we are on the right track. It wasn't long before we found a small group of bottlenose who were chasing ballyhoo and playfully feeding. Although we didn't get in the water at that point, we would soon have our chance with four spotted dolphins-including the one and only, Seabeagle (#106)! Seabeagle's group of dolphins was also joined by five bottlenose, for an encounter with both species. With Kaiya on the bridge in charge of the sighting sheet, and Nicole on the bow taking surface photos, Patrick and Tori were able to get in the water to capture still shots and video. After that eventful encounter with approximately nine dolphins, we were back on the boat and continuing our search, while the captains did their best to steer us clear of the squall heading in from the northeast.
In the distance we could see the telltale flash and splash of bottlenose dorsals on the surface, but Captain Al's experience led us in another direction-right into the path of multiple groups of spotted dolphins, totaling 10+ individuals. Over the next hour, and during two additional underwater encounters, we were able to identify Paul (#99), Lil' Jess (#35), and Romeo (#10). Due to them swimming in somewhat of a large group, we're excited to check the footage later to see who else we might recognize! We were very pleased with our last boat trip of the week, and thankful of the opportunity to share such incredible dolphin encounters with this Bimini Adventures eco-tour group. According to several of the guests, it was the perfect send-off and end to their week as well. As for the Trio, we're ending the week on a high note, but cannot wait to continue this journey on Sunday.
Until then,
Tori, Patrick, Kaiya, Nicole & Kel