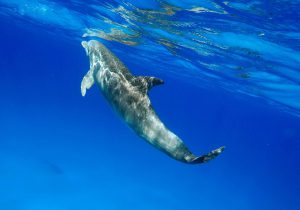 Patrick, Tori, and Kaiya started their Wednesday with an early AM snorkel off the "Galant Lady." Getting in the water first thing in the morning was something we've all been eager to do, and this was the perfect morning to do it! Among the highlights of the snorkel were an apprehensive barracuda, a stingray, some split-crown feather dusters, some comb jellies, as well as an assortment of colorful fish. After that, it was time to get some coffee and get to work.
After working on some of the Bimini dolphin photo-ID logs, and data entry for a few hours, it was time to break for lunch and then head over to the Sea Crest, where Kel was hosting a DCP information session with this week's eco-tour group. It was a great opportunity to connect with the guests we'd been accompanying all week, and it also gave them a chance to get to know more about us and what exactly the Dolphin Communication Project is all about. It was also fun to introduce them to our Adopt-A-Dolphins. Thank you to everyone for your great questions, stories and support!
Once the guests were ready to go, Nicole led us down to the dock for our boat departure, and we were off in search of dolphins. Once under way, we were able to rotate between positions and responsibilities, each spending time with the sighting sheet and surface camera, and Patrick and Kaiya were able to get to get in the water during the only encounter of the day. Kaiya was able to test her skills with the DCP video camera and try for some focal follows with a group of crater-feeding bottlenose dolphins, with one spotted dolphin in amongst them. With both Patrick and Kaiya in the water documenting the activity, Tori was on the bridge snapping pictures with the surface camera. Though it was the only encounter of the day, it was quite eventful, with the bottlenose exhibiting some aggressive behaviors towards each other, such as jaw-clapping.
As it started to get late, the captains opted to start heading back in, in the hopes we'd find some spotted dolphins while en route to the dock. Instead of the spotted, however, we had a brief sighting of 2 more bottlenose (thanks to Nicole's keen eye), one of which was riding our bow, just as we entered the channel in the homestretch. All in all, it was another glorious day at the office, made even better by the guava birthday pastry given to Kaiya for her 23rd birthday today! (Happy Birthday Kaiya!) Hopefully tomorrow we'll spot some spotteds.
Patrick, Tori, Kaiya, Kel & Nicole signing off.