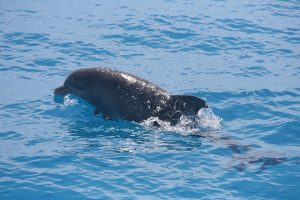 Tuesday marks The Trio's first full day in the field! Our morning was spent with Nicole dropping by to outline our goals for the summer. We began working on yesterday's data entry and some bottlenose photo-ID. The morning quickly passed and we made ourselves some lunch. We then immediately went to the boat for our introductions and a quick overview of our boat regulations and protocol. We were introduced to the eco-tour group that we will be joining this week. Our trip began differently than usual by heading to Triangle Rocks for a quick shark dive (to Tori's extreme delight!). We hopped in and saw a few reef and sharpnose sharks. Most swam by rather quickly but one was quite inquisitive and stuck around for a bit. We snorkeled a little longer then got back to the boat to begin our search for dolphins.
It didn't take too long to spot a group of three bottlenose dolphins which hung around just long enough to take surface photos, but we didn't get to get in the water this time. We passed a few vessels with their own groups of dolphins but we travelled on to find our own. We were fortunate enough to have four underwater encounters throughout the day. Kel was able to get into the water to capture some amazing video data. Patrick and Kaiya were able to practice some surface photos and identifying dolphins from the bow, while Tori was perfecting her sighting log skills from the bridge. We saw a few spotted dolphins that were easy to recognize, such as Romeo (#10) and her calf, Inka (#93), Seabeagle (#106), and #102. Noodle (#94), #101, #107, #108, and some calves may have made an appearance as well. We're excited to review the footage and pictures from the day to hopefully confirm more. After an extremely productive day with lots of sightings and activity we headed for home!
While docking we saw three massive bull sharks, a nurse shark, and a stingray snacking on some freebies that were being thrown in the water by some fishermen cleaning their catch from the day. We then hopped on our bikes and made a quick stop to get some groceries. Then we were heading back home to clean up, eat dinner, and finish work for the day. We can't wait for another productive and exciting day tomorrow!
Trio, signing off.
Tori, Patrick, and Kaiya (& Kel & Nicole, of course!)