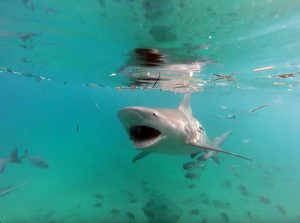 The DCP team slept in on Monday by about an hour; something about active dolphin research must make us all very tired. But after a slow start, we began data entry and photo ID's, and got a considerable amount of work done. Unfortunately, our boat trip was canceled due to large swell and strong winds, so the day was largely left open for the researchers and students that are currently on island. For the DCP team, this meant taking advantage of the time to do actual laundry (thank goodness), go shopping for groceries, and relax at the Big Game Bar and Grill for a few hours. Mathew, along with several other Manhattan and Hunter College students, spent time in the shark cage filming and observing with bull sharks, stingrays, and large fish. Overall, it was a calming, unexpected, and much-needed half-day break for our entire group. With our batteries recharged, we are confident that Tuesday we will be able to approach our scientific studies with the rigor and enthusiasm that they deserve. 
**Since Mathew was the only DCP member who experienced the sharks on Monday we thought you might be interested in his reflections on the experience. Enjoy! 
Mathew: 
I was expecting Monday to be a day where we would go out and see more wild dolphins to document their behaviors and identify them. However, we were left on the shore due to intense wind and swells out on the ocean. I wondered how I would fill my time, aside from doing office work. In the midst of taking a break for lunch, Garion told me that he was going to check out the Big Game Bar and Grill so I tagged along—we met some nice people there. After a bit, we met up with some of the students from Manhattan and Hunter Colleges who have been on the boat with us all week. My attention was caught when one student mentioned that you could "dive" with bull sharks near the Big Game SCUBA shop. I decided I wanted to give it a try so I joined her and two other students for the dive while Garion and the others relaxed at the pool. 
I was nervous to dive with one of the world's most aggressive predators. Once I got in, the nerves persisted but I was also excited to see a bull shark close up. We rotated going in and out of the water, since only two could go in at a time. The dive went well—we saw stingrays, tarpon, nurse sharks, and, of course, the bull sharks. They were such immense and powerful predators and when you are in a tiny cage surrounded by up to four or five of them, it becomes impossible to not respect that fact. Despite the somewhat intense experience, I managed to get quite a few great videos of how bull sharks behaved while in close proximity to humans (and fish are being thrown in the water) and when there are other species and individual bull sharks in the area. It is by far one of the best moments of my time here in Bimini as well as my life up to this point. 
**We hope you enjoyed DCP's divergence from the usual dolphin stories. We will be returning to our dolphin searches this week so check back for more! 
Until tomorrow, 
Garion, Mathew, Nicole & Kel