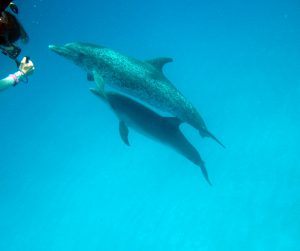 Sunday started out as a storm. Not a metaphorical storm of work and effort but a literal one. We stayed inside the majority of the morning, like most other mornings, working on our photo IDs. Mathew also uploaded his GoPro footage from Saturday's trip (from our swim with crater feeding bottlenose dolphins). 
The afternoon was unusual because headed to the boat for what we thought was an early departure, but just as we were going to leave, Captain Al told us that we would be waiting 15-40 minutes for a large squall to pass. Mathew and some of the students decided to have fun with the situation and make it a contest—the last student to hold out on the bow through the rain and wind was the winner. It came down to four people (Mathew being one of them) and they decided to call it a draw. About an hour later than our original/early departure time, we took to the seas and began looking for dolphins. We saw no bottlenose dolphins but we did come across Atlantic spotted dolphins. The first group we saw was three that Nicole recognized as adults from a spotted dolphin group previously found in the northern Bahamas but that have been frequently seen around Bimini over the past few years. They were bow riding for about fifteen minutes before they continued on their way and we resumed our search. About five minutes later, we saw a new group of five spotted dolphins. They were surfing the waves so Student Team 2, along with Kel, Dr. Kaplan, Dr. Maust-Mahl and Garion, headed in to collect underwater data.  Mathew stayed on the boat with the GPS and clipboard keeping our records of time and location.  At first we weren't sure the dolphins would stick around but lucky for us they did! Included in the group of five were Swoosh (#36) and her presumed calf (pictured together here) and young juvenile and a second mother/calf pair. It was great to see how the dolphins were performing their usual activities while also investigating the humans in their home. 
With this successful round of observations and lots of data, we headed back to the dock. The forecast doesn't look great for Monday or Tuesday but everyone is looking forward to what our next wildlife encounters might bring! 
Until then, 
Mathew, Garion, Kel & Nicole