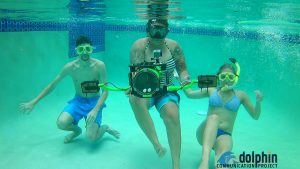 The DCP summer interns (Tori, Kaiya & Patrick) have been with Kathleen in the Florida office since mid-May learning about data analyses (video processing, confirming dolphin IDs, event sampling for behaviors and more). They depart at the end of June for Bimini to help Kel collect data on the Atlantic spotted and bottlenose dolphins around Bimini, The Bahamas. But, before they cross the Gulf Stream for clear blue waters, they needed to learn how to handle the MVA and gain some tips on collecting video and still photos underwater. You can see they all did well … though maybe they'll need to remember fins when in the ocean!
Here is what they thought about their experience:
Patrick: It was interesting to see how the MVA was designed and put together. And it was awesome to get hand's on experience with the MVA in the water before we head to Bimini.
Kaiya: Learning about Kathleen's (i.e., DCP's) process when in the field was helpful as we begin to prepare to head to the field ourselves. Getting to practice in the pool was an added bonus and I'm excited to see dolphins on the other side of the lens, though the beagles were very cute!
Tori: I had a wonderful experience with my fellow interns yesterday. We were introduced to the MVA system and learned how to assemble, maintain it, and got a chance to try it in the pool. I'm looking forward to using it in the pool.
Of course, no MVA training session would be complete without seabeagle supervision … in this case the canine kind, not the spotted dolphin kind!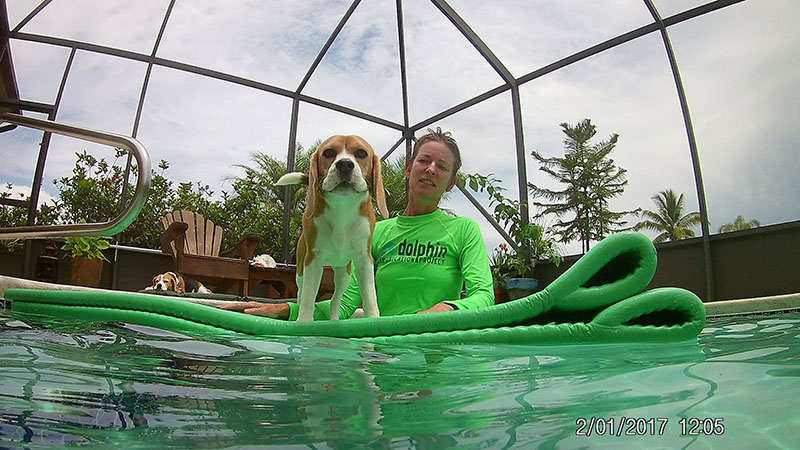 You can see Baloo providing oversight of the MVA use while Dixie rests on her laurels in the background!
Have a great day!
Cheers
Kathleen, Kaiya, Patrick, Tori, Dixie & Baloo (woof!)