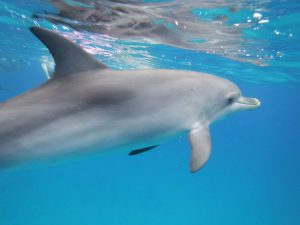 On Sunday, we were excited to see the sun and feel the warm rays.  We headed to the Dolphin House and meet with a local Bimini man Ashley Saunders.  We were impressed that he began working on the Dolphin house in 1993, and his family had been on Bimini for over 200 years.  The house was all handmade and unique, made out of shells, pottery, seaglass.  He used recycled materials and salvaged materials that he cleans up from the beaches. We were all interested in hearing his historical perspectives on Bimini.  He explained about the population and the history of escaped and shipwrecked slaves.  We also enjoyed hearing about why the palm trees were planted – to help with fresh water since Bimini does not have many crops.  
Next, we practiced photo-ID with Kel instructing us on the details.  We were able to practice out first photo matching session on an unlabeled photo – it turned out to be Lil'Jess!  It was more time consuming and difficult than we thought.  We realized that taking photos for research (photo-ID) is much different than taking a "pretty dolphin" photo.  
After lunch we headed out on a dolphin survey.  There were a few more swells than the day before and the clouds rolled in, but we were still optimistic.  We thought it was really rough – but Kel, Nicole and Dr. Yeater knew it wasn't bad at all. The first animal that we encountered was a spotted eagle ray.  Relatively quickly we found two (more?) bottlenose dolphins.   Right away we were able to tell that they were bottlenose and not spotted dolphins by their size and behavior.   We moved on from those two dolphins that were difficult to observe and soon after sighted five bottlenose dolphins.  This group included a mom and calf.  Kel was able to take some dorsal fin photos for identification.  They did not come very close to the boat and were moving pretty fast and the boat had to follow with them.  When we left the bottlenose dolphins the swells got bigger and many of us got soaked on the bow.  It was fun and we all laughed at the big splashes! 
After we moved on we found some dolphins and we were not sure what species they were.  There were five closer to us and two jumping in the distance.  We observed them from the surface and once they came close to the boat we were all able to tell that they were spotted dolphins.  Some of use noticed right away that one of the dolphins was familiar from our encounter the day before.  We were able to observe a group of four underwater.  They were all engaging in a lot of socio-sexual behavior.  We thought it was so cool that we could hear them so clearly, both whistles and clicks.  They swam so close to us that we could feel their movement in the water.  We also thought it was disgusting that we swan through their fecal material – not going to lie!  It was really interesting to observe a larger group size than the day before because we all felt like we could see a dolphin. The dolphins seemed to approach us for a while, but then when they swam away from us, they quickly disappeared into the abyss. 
Some of us were so tired from the boat survey that we went to sleep early.  Those of us that hung out a bit later were rewarded with a yummy chocolate cake treat.  
Until Tomorrow,
The Storm Troopers (SHU 2017)