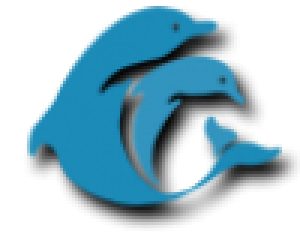 Wednesday started pretty busy on Bimini! I packed my bag and headed to WildQuest to give a dolphin talk to their guests. A big thank you to the WildQuest family not only for the invitation, but also for the wonderful company, stories and questions. And, it was an honor to share mine with you! 
After a quick check-in at home, it was off to the Juliet for the second talk of the day. This time, I chatted with visiting high school students from the Sarasota, FL area. With the breeze whizzing through the door and the large vessel slowly swaying, I told the students about DCP, our research methods and dolphins in general. I hope they enjoyed the little session of school – thanks to the whole Juliet family for having me! 
I parked myself at the Bimini Big Game Club to grab a fast (yes – it was fast!) lunch and get a little computing done before the 1500 dolphin trip. While inhaling my food, I got the message that the trip was not to be – that nice breeze that kept me cool on the Juliet was also keeping the boat at the dock. I'm sure the students were disappointed, but I hope they value the lesson in the realities of field work and enjoy looking back on the amazing dolphin observations they have had. 
We're staying positive, hoping for a trip tomorrow, but the forecast doesn't look good. We're keeping our fingers crossed! 
Until then,
Kel