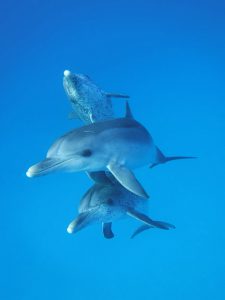 On Tuesday, I joined DCP Research Associate J. Daisy Kaplan and her field course from St. Mary's College of Maryland. First, I gave the students a crash course in underwater still photography, showing them how to use & care for DCP's still cameras and what to aim for when taking photographs intended for photo-ID. I could tell it is a great group of students! 
Despite the heavy rain that came down during the camera orientation, the Bimini Adventures boat left on schedule, soon after 1500. We knew the conditions were windier than we'd like, but everyone was optimistic nonetheless. We search and searched. Finally, we were rewarded with a bottlenose dolphin! Who promptly disappeared. Well, at least we were all re-energized as we continued our search. 
Closer to the island, we received a tip that spotteds were nearby. We looked and looked and saw nothing but waves. Suddenly, the dolphins were right there! It was a dozen Atlantic spotted dolphins, of varying ages, including Stefran (#82), Swoosh (#36) and a known, but un-catalogued (long story) older male. The dolphins were surfing about, with lots of direction changes and general coming together/going apart behaviors. With a small group of dolphins seemingly slowing down and sticking around, we got in the water. 
Because of some MVA difficulties, I got a rare chance to collect still photographs – what fun! We confirmed three dolphins: un-named #101 (female), a young juvenile female (perhaps to be added to the catalog?!) and that pesky un-catalogued older male that I had seen from the boat. Now maybe we finally have enough images of that guy to add him to the catalog. So, even though there were "only" three dolphins in the group, there will be plenty of ID data to process. 
This group is here through 25 May – so stay tuned for lots of updates! 
Until next time,
Kel