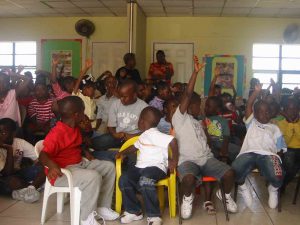 Well, it had been quite a few years, but I finally had the opportunity to visit several classrooms at Bimini's public schools today! First up was a small group of 9th, 10th and 11th graders – those who weren't busy in national exams at the time – at Louise McDonald High School in Alice Town. They were a lively group; at times, it seemed, they were trying to embarrass me with shall we say, certain, dolphin questions. Little did they know the topic of my Master's thesis included a lot of dolphin mating and I do not embarrass easily when talking about dolphin science! I enjoyed their enthusiasm! Next up were 7th graders who may have been a bit sleepier, but were respectful and engaged in the presentation. I snuck in a quick lunch at CJs deli (a rarity for me these days!) before cycling over to the Bimini Primary School. I soon found myself in a room full of rowdy 5th and 6th graders – yikes! They were quick to offer suggestions to my questions, very interested in whether or not dinosaurs were around when I was in school and concerned about the role of sharks in dolphins' lives. Though they were the noisiest of my groups today, I do hope they took away some good information about the dolphins that live right in their backyard. Inspiring local children – and adults – to care about their local environment and the animals that make their homes here is so very important. Thank you to the principals, teachers and students who made today's talks possible.
These presentations were somewhat last minute, so I wasn't armed with a camera (darn!). So, here's a throwback photo from a visit to the now closed Bimini Catholic School in September 2004! These kids are in college now – whoa! 
The field season here in Bimini really ramps up next week. So stay tuned for lots of field reports! 
Until then,
Kel