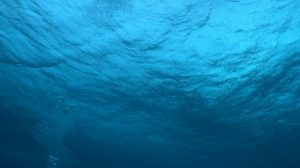 Two data collection sessions today made me a happy camper! Two to three dives today made most of our eco-tour team happy! We all got very wet today! Not just from entering the water for data collection or diving but from the rain deluge that visited us a few times today. That's what the front photo depicts – rain viewed from underwater! The dolphins and divers did not seem to mind the rain. Drying off after the day was another story!
My early AM data collection session had me in the water by 6:26 AM – go team! The dolphins were social and interactive. Polly and Callie were a bit too attentive to my fins but overall everyone was playful. All our surface observers (thanks to Ron R., Regina, Ron B., Erin, Aly, Madison, Lisa, Chris, Dave and John) this morning were troupers – the rain approached and then became a downpour before the session was over! They helped all before breakfast and their first early morning dive.
During both early AM and PM (~noon) sessions, the current was "wicked" strong! Within minutes of entering the water I was on the other side of the enclosure … it almost felt like the dolphins were mocking me in the ease with which they swam against the current!
The afternoon was slow and rain filled and finished with watching some of the video from yesterday and today and chatting about the different scars and marks on each of the dolphins. We'll begin the sketches tomorrow!
The team today took the boat over the Maya Key for diving and a picnic. Of course, their dive was punctuated by much rain! That was today's theme – rain, rain and more rain!
Until tomorrow,
Cheers
Kathleen & the DCP RIMS October team