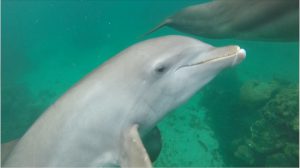 Our first day of data collection for this session began well! One hour of video collected and Ronnie was not as curious about me as in previous years! He was the first to greet me (as this image can attest), but it was more Lenca, Champ and Mac (the three young boys) who spent time trying to rough-house around me during both my early morning and second morning sessions!
We had really good underwater visibility at ~6:40 AM when the first session began. I was able to view most of the 23 dolphins underwater at least once. It was great to see all the dolphins again! And, Hector and Han were close on Gracie's heels for most of both sessions! They did a behavior that was new to me. Hector was above Han and Han was in contact almost for the length of his body with Hector. They swam in what looked like a joint S-posture as they followed Gracie around. They were vocal, too!
The second morning session was mostly Lenca, Champ and Mac circle swimming each other and me. I did observe some chases and some contact as well as rubbing action. Overall, I was able to collect 1 hour 3 min of video with the main MVA camera and another hour or so of GoPro footage of the dolphins providing a wider angle of view. This image of Ronnie is a frame grab from the early morning video session when he was greeting me on entry.
I had much help from our eco-tour team – they made observations of the behavior of dolphins from the water surface and logged details related to their interactions. We also have a group of SCUBA divers and they got in between 2 and 3 dives each today. The evening wrapped up with the AKR Sunday night fish ID talk – very neat to learn about some of the endemic species viewable on each dive!
Tomorrow begins early again with a 6:30 AM entry planned.
Until then,
Cheers
Kathleen & the DCP eco-tour team!