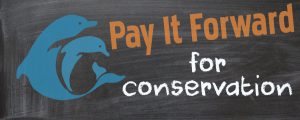 As you may have noticed, DCP has been expanding and growing, with our mission statement reaching farther than ever before. DCP has been fortunate to gain the support and interest of so many people, which was evidenced in our recent matching fundraiser in June—surpassing our fundraising goal of $2,000 by more than 15%! Feeling so grateful about the support received, DCP has decided to give back in its own way. To that end, DCP has started a new program to pay it forward to a conservation organization in two ways. First, one of DCP's board members will commit to a financial contribution directly to that organization. Second—and this is the fun part for you—DCP will also commit to telling the story of that organization to all of you, to build awareness about immediate conservation issues, and to build partnerships among organizations with shared goals. We hope this will be an annual event that we will all look forward to!
Everything in the ocean is connected. As such, supporting worthwhile conservation efforts outside our own will continue to drive DCP's mission to promote the scientific study of dolphins and inspire their conservation.
The first recipient organization for DCP's Pay It Forward for Conservation initiative is ¡Viva Vaquita! Stay tuned for a blog post featuring the vaquita!