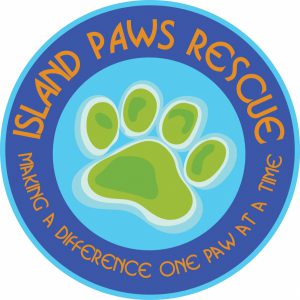 Monday was a busy, busy day on Bimini! We left the house early, shuttling dog crates and supplies to the ferry; we carried them to South Bimini so we could meet the rest of the team and head up to Resorts World Bimini…oh, wait. We're getting ahead of ourselves, aren't we?
Long story short, Kel is a regular volunteer at local vet clinics and with efforts to get island strays into foster and forever homes. So, when word about some stray dogs and puppies on RWB's property reached us about two weeks ago, we began spending all our free time visiting with the dogs and coordinating their rescue. Backed by the Humane Society of Grand Bahama (HSGB) and Island Paws Rescue (IPR), we joined forces with other local volunteers and RWB employees to capture five adult dogs and eight puppies. The adults headed to HSGB this afternoon; the puppies will head to Fort Lauderdale tomorrow. You can see these dogs on Facebook at The Stray Dogs of Bimini. If anyone is interested in adopting one of these Bimini sweethearts, please contact IPR!
While Nicole stayed on dog-rescue-duty (even during a downpour!), Kel prepped for and headed out on the day's dolphin trip. With my rain jacket on for most of the trip, I enjoyed chatting with guests as we dodged squalls and searched the seas. It wasn't looking promising as we began to head to shore having seen little more than rain drops and small waves. Suddenly, a guest spotted dolphins behind us! We headed that way and, knowing that sunset wasn't far off, we hopped in the water quickly. First, it was two youngsters swirling around the divers. Soon, Tina (ID#14 and yes, still pregnant!) joined, giving Kel and the other guests some good, close looks. She periodically interacted with the youngsters as they swam ahead and then back to us, ahead, to the boat and back to us again. It was a wonderful swim and watching the pure joy and amazement on the guests' faces afterwards was incredible.
As we cruised the rest of the way home, we all soaked in the gorgeous sunset, only to turn around to a phenomenal rainbow (double on one side!) arching over Bimini. What a day!
Though the weather forecast continues to be challenging, we're pretty optimistic and grateful after today.
Until next time,
Kel & Nicole