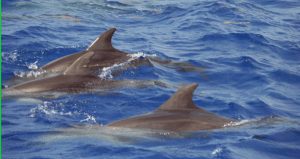 Wednesday through Saturday were off-the-boat days for DCP. In lieu of dolphin-searching, we filled our days with data entry, photo ID and (Master's) project preparation. We also spent some time preparing for the rescue of 7 puppies and 5 adult dogs found on North Bimini–Island Paws Rescue is coordinating these efforts and we wanted to lend a hand! Stay tuned for details! 
By Sunday we were ready for the newest Bimini Adventures tourist group. Nicole was on the boat at 1500 to join the guests on their first boat trip. Despite a heavy wind and threat of rain, we set off with the excitement only a Bimini dolphin trip can inspire. At the beginning of our journey, we stopped for a gear check, allowing the guests to become accustomed to their fins and snorkels. Shortly after that, we had to change course to avoid a large squall. But only a little while later we had our first dolphin sighting! Just off our port side we saw a dolphin leap–this turned out to be a group of 7 bottlenose dolphins. This sighting was particularly exciting because Captain Al thinks 3 of these may have been a little different from the rest. It's possible these dolphins are from a different population than the Bimini bottlenose–they might be the offshore bottlenose ecotype, which are characterized as being larger and slightly darker than the coastal population we are used to seeing. Hopefully the surface photos Nicole collected will be useful for exploring this theory further. 
Not long after getting a good look at the whole group, we lost sight of these 7 and continued on our way. While the wind and rain had thus far not been a big deal to us, at this point the waves got a bit bigger and the squalls more menacing. Since we weren't seeing anything in our normal search areas, and it started drizzling, we decided to move back towards the island. This turned out to be a good idea; not only did the wind die down a bit but we had 4 more sightings of bottlenose dolphins! These were rather brief (and not great for surface dorsal fin photos) but it was still exciting for our new guests! Many of them got a really good look at these dolphins from the bow! 
The guests were thrilled to have seen dolphins on their first day! Everyone was also thrilled to simply have the chance to swim in the beautiful waters of Bimini. We are looking forward to the rest of the week with this group– what will tomorrow bring? 
Until then,
Nicole & Kel