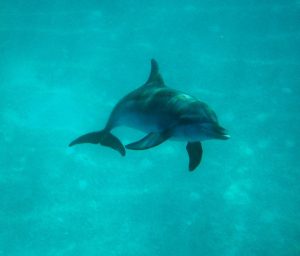 Sunday was another beautiful day on Bimini. Kel and Nicole had planned to have a morning meeting but it was rescheduled so instead, they took care of some other island business (we can't resist trying to help The Stray Dogs of Bimini!). By 1500 Nicole was ready to head out with the Hunter/Manhattan College group once again. Only 15 minutes into the trip, Dr. Kaplan's wish was granted–we spotted three bottlenose dolphins, including one older calf, and they were crater feeding! We observed this group from the boat for a bit, collecting surface photos of their dorsal fins. Then the student teams were able to take turns doing underwater observations as Dr. K and Dr. M recorded video and acoustics. After an almost 50 minute encounter, we decided to get back on the boat to search for more dolphins.
A relatively short time later we came across a small group of Atlantic spotted dolphins–an adult, a juvenile and an older calf. These dolphins were moving pretty slowly and not interacting much with each other. We watched them from the surface for a bit before entering the water. We had a couple of encounters with the younger two individuals, the male juvenile and the female calf, who were playing with seaweed but still not interacting very much with each other. After some time we decided to leave these dolphins to see who else we might find. And what do you know, only 6 minutes later we came across more bottlenose dolphins! This was a different group of 3, also including a calf, who were also crater feeding. Dr. Kaplan must have been wishing really hard because her request was granted twice in one day! Our underwater observations of this group were shorter than earlier in the day but everyone was able to collect some interesting data. And the last student team who had not yet had the chance to see bottlenose crater feeding finally had the opportunity!  
As we climbed back on the boat and left the bottlenose dolphins, Captain Al saw something in the distance. At first we thought it might just be fish but it turned out to be 2 juvenile Atlantic spotted dolphins, a different pair from the ones we saw earlier. We were not able to identify these from the boat, and our underwater observations were not successful, so we started to head for home. As we approached the channel entrance Dr. Kaplan noticed dorsal fins between us and the island! It was a group of at least 5 bottlenose dolphins, likely crater feeding. The sun was setting so it was too late to do more than mark their location and continue for home. Yet again, we docked in the dark and battled the mosquitoes as we got off the boat. But we were all very satisfied with our dolphin experiences from the day. This group has one more dolphin trip on Tuesday–let's hope it is as successful as the past few days have been! 
Until next time,
Nicole & Kel