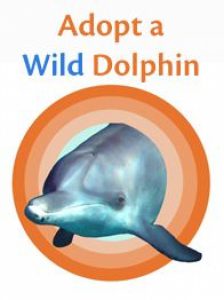 On Monday, I was able to get back on the water in search of dolphins, after a few weeks on land. It had rained on and off all morning, but despite the still overcast skies, the seas were very calm. Immediately out of the harbor we saw a turtle swimming just below the surface and everyone was optimistic it would be a great first day. Because it was the first day, a "gear check" was planned for about 30 minutes into the trip. This gives Bimini Adventures' guests a chance to test their snorkel gear, practice getting on and off the boat, and get a feel for open ocean swimming. Today, however, the dolphins had other plans! 
Before the crew could even call for the groups' gear check, the dolphins were in view. A group of eight Atlantic spotted dolphins were on the move! Though they were traveling, they spent a great deal of time at the surface, occasionally playing sargassum, riding the bow of the boat and interacting with other. In the group were: Split Jaw (#22), Prince William (#64), Tim (#69), Speedy (#78), Noodle (#94) and, presumably, her calf. After watching them from the boat, it was time to do that gear check after all. Though the dolphins did not stick around, the passengers seemed to enjoy the practice. Back on the boat, we continued the dolphin search and very quickly came upon the same group. By now, however, the dolphins were scattered and some of them seemed to be feeding. Having spent a nice time observing this group, we opted to continue in search other dolphins. 
With bad weather looming to the west, and some unfortunately boat trouble, we searched for the dolphins again while headed back home a bit early. Still, spirits were high and grateful for the great dolphin observations we did have. For me, I was thrilled to see familiar faces and fins and am looking forward to other day on the water tomorrow. 
Until then,
Kel