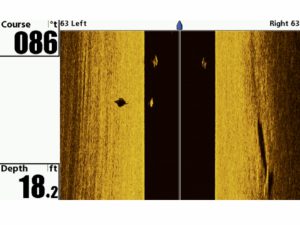 I spent the week of July 16-23 on board the riverboat, La Estrella.  This ship is operated by International Expeditions, an eco-tour travel agency.  During this week, I had the opportunity to spend a morning recording dolphins in the Pacaya-Samiria Reserve.  The conditions in the Ucayali River are optimal for recording dolphins.  To record the dolphins, we navigate a small motor boat about 200 meters past the animals, up-stream.  We turn the motor off and drift with the current past the dolphins while recording.  The Ucayali River is generally 7 meters or less in depth, and not more than 50 meters wide.  The current is slow and the dolphins seem to favor this area.  After doing one to two passes with the hydrophone array, we do a pass with the HumminBird side scan sonar system.  One of our data images from the side scan sonar is shown below. 
This coming week, we will have scientists from the U.S., France and Chile in the area collaborating on research on river dolphin acoustics!
Smiles from the Equator!
Marie
P.S. in the image – in the black area in the center shows upper left and right images that are suspected mother/calf dolphin pairs. The image on the left below these two pairs is likely an adult dolphin casting a shadow to the left.