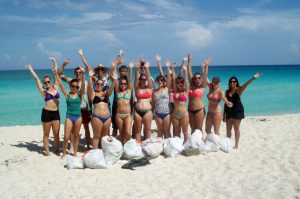 After breakfast on Thursday we headed to Radio Beach for a beach cleanup. Everyone grabbed a buddy and collected garbage and debris–as a group we collected 9 bags of trash! It is nice that the students are able to give back to Bimini and the environment that gave them so many wonderful experiences over the past 12 days. Then everyone enjoyed the beach one last time with a luxurious cool-off swim! 
Once they had dried off, the students headed back to the common room to discuss some final details about the course. After that there was a bit of free time before lunch during which some people popped down to the store to buy some adult beverages for dinner and others headed to the Bimini Museum to learn some interesting facts about this tiny island. They were surprised to discover that the closing scene of the movie The Silence of the Lambs was filmed just down the road from the Sea Crest Hotel and Marina where they have been staying while on Bimini! 
The final lunch of the trip included a special surprise–conch fritters and crack conch (similar to fried clam strips) prepared by the one and only Miss Sarah Lee. There were even plain fritters so that the vegetarians could share in the experience! Once everyone had indulged in the Bahamian culinary experience, we got ready for the boat and left the marina at 1430.  
The group's last boat ride started out with a snorkel stop at "Shell Beach." The students (and Dr. M) spotted some amazing creatures including a squid, an eagle ray, a nurse shark and many reef fishes. Back on the boat, a few students took turns diving and jumping off of the boat–Dr. M even wowed us with a cannonball!  
Once everyone was tired out from playing in the water, we began our usual course in the search of dolphins. After an hour and a half of scanning the choppy and cloud-shaded water, we finally came across a group of 3 spotted dolphins. We were not able to identify anyone from the boat but we did notice that the group included an adult, an older calf, and a juvenile and appeared to be traveling. We observed these dolphins from the boat for about 30 minutes before continuing on our way. About an hour later we noticed that there were multiple squalls around us, including one that had obscured the northern tip of North Bimini. Captain Kat took this as a sign for us to start heading home. Just as we approached the entrance to the channel we came across another group of spotted dolphins, this time a group of 6 including Lil' Jess (#35). Unfortunately, the squalls finally caught up to us so we all hid in the cabin as we made our way back to the marina.  
Back on dry land, everyone showered and got ready for our special last night on Bimini. Dinner was tortellini and pink sauce (which many students had never tried, but found that they liked!) with spicy chicken sausages. Once the dinner dishes were cleaned up, Kat and Kaila joined our group as we headed over to Big John's where they enjoyed different versions of the popular local drink, rum punch! It was a fun-filled evening to end a wonderful field course.  
Friday morning started bright and early with breakfast at 0700. By 0800 we shared a big group hug and then Kel and Nicole said goodbye to Dr. M and the EKU students who then made their way to the South Bimini airport. DCP is sad to see them go but we are very grateful for their limitless positivity throughout the past two weeks! We cannot thank them enough for investing in this experience and giving us the opportunity to share so much of Bimini and the dolphins with them. 
Our trip is "fin",
Kel & Nicole, on behalf of The Podfia (EKU 2016)
PS: And a big, big thank you to everyone who donated to our "Double Down on DCP" fundraiser! We raised over $1,300 and will now get a matching donation of $1,000 – woo-who! Forgot to donate? Don't worry – you can still contribute! Just click here.