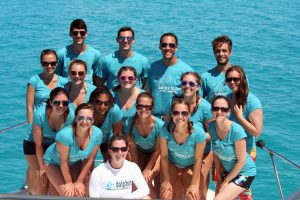 On Wednesday, some of us woke early for a morning walk. The big winner in this exercise was Ben, who found $120 on the beach! With no one around to claim it, he savored his good luck. Our class session was a discussion about ecotourism, bringing our conversation full circle from the first day. Kel shared (one of her many) soap boxes and we experienced our first Bimini power outage. Thankfully, it was short. We discussed our opinions about how to be "eco-tourists" and be as least harmful as possible.  
Some more of us met Tommy Saunders and others went to the beach and still others stayed in the cool to spare our skin from more sun. We dined on baked potatoes (a first for one of us!) and got the announcement that we were planning to have conch fritters and cracked conch tomorrow! We got ready for the boat and departed the dock at 1500. 
Just one hour into the trip, we saw a huge group of Atlantic spotted dolphins. We counted to 31 right away, but then got to 32! They were moving very fast, still some of them slowed enough for us to get in and observe them under water. It was really nice to see how far we have come with our free diving and overall comfort in the water. We're chuckling as we realize we all have our "favorite" dolphins: Dom –Split Jaw (#22), Christine and Andrea are in love with Lil' Jess (#35), Patrick and Kaelin are feuding over Tina (#14), Morgan – Inka (#93), Veronica – un-named #101, Tyler – Noodle (#94), Ben – Leslie (#80), Caitlyn – Paul (#99), Casey – Cerra (#38), Michelle – Speedy (#78) and Dr. M is waiting for photo-ID of her favorite adult. Yes – this group has seen all of these dolphins! 
In the midst of the whole day, we also saw a large loggerhead turtle. The dolphins paid it no mind as it dived down and out of sight. We came back "early" (barely!) and got ready for our last BBQ. We ate delicious burgers and dogs (thank you Kaila!) and Nicole's Grandmother's yellow rice (wink, wink, Kaiya – SHU 2015) leaving little room for animal crackers (a mature dessert choice). After dinner, some of us went to the beach to look for bioluminescence; we found a little and saw several shooting stars! The stars were absolutely amazing and the clear night only highlighted the lights (light pollution – ugh) of Miami. 
Let's "sea" what's in store tomorrow,
The Podfia (EKU 2016)