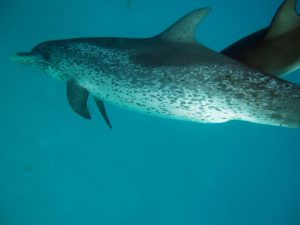 On Monday morning, it was a large thunderclap that woke us! Soon our bellies were full, our blog was written and we were discussing mixed species interactions. We all agreed that people cannot put our personal/human expectations and social constructs onto dolphins, particularly when it comes to socio-sexual interactions and mating techniques. (For more on this, check out Dr. JustinGregg's blog).  
Our boat trip departed at 1430 so that we could snorkel the biggest sister of the "3 Sister Rocks." There was crazy cool wildlife here, with fish that let us get within centimeters of them! We saw a hound fish, a nurse shark, barracuda and maybe a soldier fish.  We took photographs around the arch, and practiced diving (now, everyone has been under water!). This site had more concentration of fish than we'd ever seen before. We could hear the parrotfish chomping away and saw lots of tiny jellyfish.  
We climbed aboard and began what turned out to be a long search for dolphins, but we realized that it only felt long because we saw them so quickly yesterday. As we were in the process of turning back toward shore, Captain Al came down from the tower and said the dolphins were right ahead! We resumed our path and soon there were two spotted dolphins and one was tossing a mackerel in the air! As we got closer we saw it carrying it in its mouth. There were two adults intermittently riding the bow, Tina (#14 – definitely looking pregnant) and another adult, who also looked pregnant: a Bimini bun in the oven! This was another timely example of females associating when in the same reproductive state, something we discussed in class just a few days ago. Also coming to the bow were two young juveniles, including un-named #102.  
We entered the water more unsure than usual if they would stick around because they were slowly on the move. But, much to our surprise, we had a great observation! When the largest group was near us, there was a lot of sargassum play – sometimes, the dolphins would carry the seaweed on their pec fin, drop it and then catch it on their flukes. There was also mutual object play – they took turns with the seaweed! Some of the sargassum chunks were quite large, and at other times, they would go after individual blades of sea grass. They were blowing lots of bubbles, and at one point, there was a big bubble burst which floated all the way up to us. Later, a youngster followed his bubbles up to the surface, swimming back into them. Some of us were watching from the boat and laughed at moments when the dolphin group was just at the edge of the humans and the humans couldn't find them! 
The end of our encounter was all Tina (#14) and a young male. At one point, Tina rolled over and we had a really good view of her belly. We could tell that her belly overall was swollen, but so were her mammaries. We'd not seen this before! The young male was associating with Tina as if he was her calf, but with his first spots visible and Tina's pregnancy, if it was Tina's calf, he'll be on his own soon! We, the students, had a chuckle when Tina and the calf/juvenile hid in Kel's blind spot and we could see them but she couldn't! Morgan had a "spiritual moment" with the younger dolphin, slowly lowering her camera so that she could savor the moment. Patrick declared his love for Tina, saying simply, "I have a girlfriend: Tina." Sorry, ladies.  
On our late ride home (thank you crew!), three dolphins came racing to the bow. Three turned into eight and they seemed to be jockeying for position.  As they left the bow, they were leaping in our stern wake and a laughing gull came in to steal the show. Dom lovingly (well, maybe not) referred to the gull as a rat with wings. As we looked up at the gull in awe, with our mouths open, Captain Al suggested we close those mouths, to prevent a good luck deposit. Back at the dock, we got ready quickly for our marina BBQ. It was so delicious and some of us tried Kalik, the local beer, before once again falling into brownie bliss. After a noisy game of spoons, we headed back to our rooms and called it a night. 
Today wasn't a fluke,
The Podfia (EKU 2016)