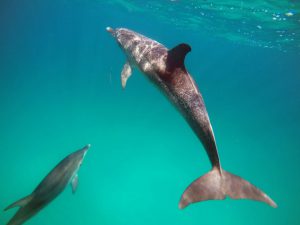 We always have to start with a balanced breakfast and Saturday was no exception. We wrote Friday's blog and then discussed dolphin social structure, including associations between mothers. Who knew how appropriate this topic would be!  
Lunch began with conch (and vege) salad and Caesar salad. Some of us really like it – and others were at least happy to have tried it. It seemed to depend on individual's take on the consistency of the conch. The salad came with Sarah Lee's special spicy goat pepper sauce – even a dab had our mouths on fire! 
The boat departed at 1500 and soon, we saw a tiny calf. We couldn't ID the mother from the boat. When we got in the water, this mother and young calf pair didn't stick around. The water was green pea soup – but we still saw several dolphins, including a calf attempting to nurse low in the water column. Later in the afternoon, we continued to see dolphins, but they were more interested in cruising with the boat than slowing down for us. In total for the day, we saw Lil' Jess (#35) and possibly Cerra (#38) and Leslie (#80) in the group. 
Dinner was baked ziti and ice cream (or oreos) followed by a showing of "Spy in the Pod." It was so dorky and wonderful that we loved it! We'll be talking about spy turtle and spy tuna for a while… 
"Sea" You Sunday,
The Podfia (EKU 2016)