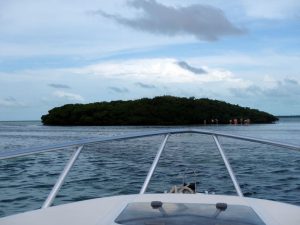 When we woke on Tuesday, it was sad and dreary – but even before this, Dr. M, Dom & Ben braved the rainy skies and walked four miles! After breakfast and our blog, we discussed the assigned articles on photo-identification. After class, some of us went to the beach for a bit and played Cards Against Humanity. We had lunch (yum, yum, amazing Navy Bean soup – even the pickiest of us enjoyed it!) and then tried our hand at photo-ID, meeting Lil' Jess (#35) and Trudy (#57). 
Though our dolphin trip wasn't going to happen (wind!), we waited with bated breath to find out if our harbor tour would set sail (with its motors). Whilst waiting, we created a Bimini version of The Wizard of Oz called, "Over the Gulfstream." The rain passed and we boarded our vessel and headed north through the harbor. Nicole and Captain Al told us about some of the places we were passing – Big Game Club, the power plant, construction sites – before we reached the biggest resort (controversial Resorts World Bimini). We doubled back and visited "Pigeon Cay," a small mangrove island. We saw lionfish, a baby lemon shark and other small fish. Lots of huge hermit crabs were wandering around the cay and what we think was a big conch.  The finale of the boat trip was jumping off the boat into the water, over and over and over and over! With lots of laughs, and water up our noses, we headed back to the Sea Crest.  
We showered and got ready for dinner, which was a BBQ on the dock with brownies! We had a quick dance party and headed back inside for a vicious, but riveting game of spoons. Veronica wasn't so sure about it, but soon enough she was sucked in, though Patrick was the winner. We wound down and headed to bed with a lot of pent up rage (kidding). 
Nerds out,
The Podfia (EKU 2016)