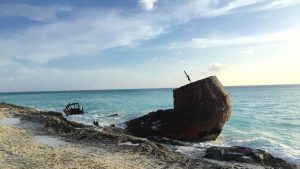 Monday morning began with writing our blog, following by lecture. We got an introduction to DCP and the dolphins we will see off Bimini before learning about the DCP cameras and what we should aim to do in order to get good photo-ID pictures. After class, we headed to the beach to practice snorkeling. The waves were really strong and Captain Al mentioned that this was the first time in a long time that the waves were actually rolling and breaking on shore. So, we didn't get much snorkel practice in, but soon we were having fun in the waves. We were also looking for shells and found conch shells and lots of hermit crabs. 
After lunch, we broke into small groups and developed our own wild dolphin interaction guidelines – though we didn't start a legitimate ecotour company of our own (yet!), one group proudly announced their "Cetacean Sensations: A whole lot of dolphun" initiative. Next, we went to the Dolphin House and got a tour from Ashley Saunders (after which, some of us shared the website with our families!). Many of us bought things from his boutique and he offered to make us ornaments from conch shells. Christine plans to write "Welcome to the Dolphin House" in Greek on one of his tiles to complement his collection.  
We went back to the beach to look for tiles and beach glass (junk!) to bring back to Mr. Saunders. Most walked as far as the Galant Lady – aka "Big Tetnus" (photo courtesy of Veronica). As Kaelin was taking a photo, she put her back to the waves and got walloped! Don't worry: it was a really nice picture. We came back for dinner and then watched "Racing Extinction." It was heartbreaking, but also inspiring.  
"Sea" you later,
The Podfia (EKU 2016)