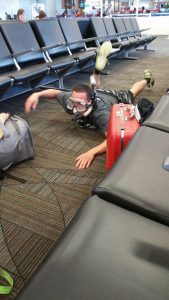 I am very, very excited for this and the coming field reports! Last Wednesday, Nicole Danaher-Garcia (intern-Masters Student-research assistant-extraordinaire) arrived on-island and has been busy updating our photo-ID catalog and prepping for our current field course. Dr. Radhika Makecha (check her out in the collaborator section under the Research tab) arrived on Sunday with 12 students from Eastern Kentucky University (EKU). For the next 12 days, the EKU students will write our Bimini field blogs – we hope you enjoy reading!
~Kel
(PS: If you enjoy reading about our field courses, please consider donating to our Double Down on DCP fundraiser – running until 30 June. The DCP board will match your donation!) 
__________________________________________
Some of us drove from Kentucky to Florida, beginning our journey at 5 a.m. on Saturday – it seems like so long ago! It seemed the entire state of Florida was in a state of torrential downpour, but our drive to reach Florida for this amazing trip kept us going! We arrived around 11 p.m. and then began Sunday early to meet up with our other classmates who flew in from Chicago, Philly and Kentucky. We had a long layover – with many delays – in Fort Lauderdale, leaving us more anxious to get here! We stayed occupied by eating cheeseburgers (expensive, but good), playing spoons and snorkeling on the airport rug.  
Unfortunately, there was a fatal small, private plane crash on South Bimini – our destination airport. We were sad to hear of the two lives lost as we boarded our own plane, texting our families that we were okay and our airline was not involved in the crash. The flight was a lot of firsts for us: first time in an airplane, first time flying over such deep water and flying that low in such a small plane. We finally made it to Bimini, had a short zip through immigration and customs and took the water taxi to Sea Crest Hotel& Marina in Alice Town. 
We love the views of the water! We can see water everywhere from our hotel – water to the east, water to the west! At the end of the night, we were amazed at how clear the water was; the moon on the water shone right through to the bottom of the harbor. We headed to bed and crashed.  
We are feeling so enthusiastic about this trip!! 
Until next time,
The Podfia (EKU 2016)
(And so you know, our group nickname started back in KY when we had our obsession with The Godfather and decided Dr. M was our Podfather and we, of course, are The Podfia!)