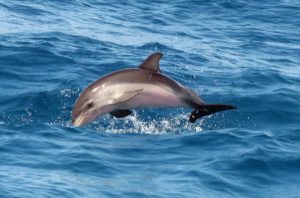 Thursday was the last boat trip for the SMC group and everyone was hopeful it would be a great one, in part because high winds kept all of us on land on Tuesday and Wednesday. The wind was to our backs at the start of the trip, which was a good thing because the seas were still rocky! Thankfully, we did not have to go far to see the dolphins. 
With a radio tip of a large group traveling, we stayed close to shore. But, boat traffic got a bit too heavy, so we opted to go our own way and look for other dolphins. I'm always grateful that the Captain Al agrees with limiting the number of boats interacting with dolphins at the same time. And this time, his choice still led to success! Soon, we were following a mother/calf group: Lil' Jess (#35), Stefran (#82) and Noodle (#94,) each with their own calf in tow, were  swimming with another adult who I could not ID from the boat. Despite our best intentions to avoid other boats, this dolphin group led us right back to the other boats! Captain Al maintained radio communication with the closest boat, ensuring safety for all.  
Over the course of the next several hours, we observed at least six different subgroups, making up what was conservatively over 35 Atlantic spotted dolphins in the area, and very likely over 50 dolphins. Large groups like this are not common, so we get very excited when it happens! In the broad group, in addition to the mothers listed above, were a known, female juvenile (she'll be added to the catalog soon!), Split Jaw (#22), Tina (#14, with calf), Juliette (#12) and Romeo (#10, with calf – and babysitting another!). The absolute highlight for me was observing Juliette (#12) under water. She is very pregnant and I could actually see movement of her calf (or, movement of her body, causing the baby to shift). I was ecstatic!! We'll see what is obvious in the video and what other dolphins we can ID from video and stills.  
So, a big thank you to the Saint Mary's College of Maryland students and their professors, Dr. K and Dr. E, and the whole Bimini Adventures crew for a great start to 2016! 
Until next time,
Kel
PS: If you are interested in supporting our 2016 research efforts, please consider a donation to our current fundraiser. Your gift will be matched by DCP board members if received by 30 June! Click here to learn more and to donate today.