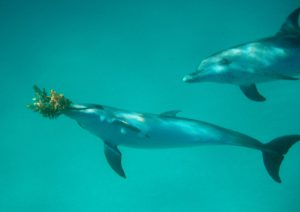 On Monday, the second wave of students from St. Mary's College of Maryland arrived on Bimini. After an evening of settling in, I met with the students on Tuesday afternoon to show them the still cameras and slates, and give them tips on taking underwater photographs for the purpose of photo-identification. Shortly after 1500, we were leaving the Sea Crest and headed in search of dolphins! 
This group got spoiled and didn't have to search long at all! Soon, we could see dolphins in the distance and as we got closer, one bottlenose dolphin checked out the boat and dove down to what appeared to be 3 more dolphins on the sea floor. These dolphins headed in the opposite direction of the boat, as we continued a bit further toward a different set of dolphins. Soon, two young (older calf or young juvenile) Atlantic spotted dolphins were swimming about – to the boat, away from the boat, to the boat, away from the boat. The sea was very calm and though we got information from another boat operator about a group of bottlenose just beyond us, we decided to hop in with the young spotteds.  
Once underwater, there was only one young male spotted dolphin, cruising around with his presumed mom, Noodle (#94)! We got some great looks at this pair, as well as a known, but not yet catalogued juvenile female. The three were very interactive with each other (but very quiet for the first part of our observation!) and soon, the dolphins were having a fun game with sargassum. It was a great session of data collection and a great first observation for the students, who have many more opportunities to come! 
Until next time,
Kel