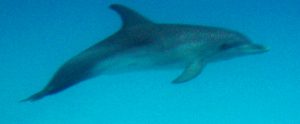 Tuesday was the first boat trip of 2016. I was thrilled to welcome Dr. K back to Bimini, this time with Dr. L and students from Saint Mary's College of Maryland. With all the gear prepped, I introduced the students to DCP's still cameras and underwater slates. I also gave them tips on taking underwater photographs of the dolphins with photo-ID purposes in mind. Throughout their course, they will be tasked with taking photographs of and notes on the dolphins while observing them under water. These photos will contribute to DCP's on-going photo-ID efforts. 
With a stiff wind, we departed the Sea Crest shortly after 1500. It felt good to be back in search of dolphins! As we cruised along the shoreline, we didn't see anything, but soon another boat radioed that they saw some dolphins just south of us. We headed that way and looked. And looked. And looked. Then – there they were! A mixed age group of at least 11 dolphins was scattered about. Included in this group was Tina (#14) and an older calf. We made multiple water entries throughout the afternoon, eventually seeing an adult group, a young group plus Noodle (#94) and feisty youngsters.  We also saw Romeo (#10) and Swoosh (#36) from the boat. Though neither female was associating with a calf, we'll need some more observations before we know for sure if they have calves this season. 
Though there were pockets of light rain throughout the afternoon (including during one of our swims!), it was a great first day at sea. I won't be able to join every boat trip with this group, but I'm looking forward to a few more trips with them – and wishing them well for their entire course!
Until next time,
Kel
PS: Sorry for the delayed posting – spotty island internet!