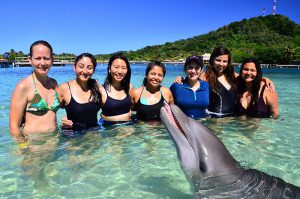 Not only did we do research in the morning, but we swam with the dolphins, too!
Not only did we have a great breakfast followed by an interesting acoustics lecture but we swam with the dolphins, too!
Not only did we do more water sampling and dolphin behavior observations for our individual projects but we swam with the dolphins, too!
Not only did we have a spectacular lunch, but we swam with the dolphins, too!
Our swim with the dolphins was in the early afternoon. We had encounters with Callie, Elli and Polly who gave us each a kiss and a hug and then the encounter was followed by a 30-minute swim with 12 dolphins. They seemed to come out of nowhere from each side. Ina received a pec fin rub from Polly. Gaby believed they are heavier than she expected when she held Polly for a photo. Sara really felt it was cool to hear their whistles and echolocation while she was waiting to see them underwater. Yasmin – they swam really really fast and much faster than I could swim. Toni did a pair swim with a dolphin (but scars and marks meant nothing to Toni so she did not remember who she swam with!). Brianna felt like a mermaid swimming with the dolphins and they circled around me when I blew some bubbles. Dr. Karlin felt the dolphins invaded her personal space! Alex felt like she was doing a pair swim with a dolphin and I seemed to be racing them but did not win. Tori – one dolphin was echolocating at my mask and it felt like my skin was moving or vibrating. Nancy – two dolphins were doing a pair swim and encircled me and several swam up and over me and I felt like I was part of their pod. Lupe enjoyed touching the dolphin skin – their tail, belly and fins. The fins have bone but the dorsal fin does not. The teeth were pointy and the tongue was big and thick. Paloma saw an infant swim but it was 7 dolphins all in a line below each other … just swimming along. It was cool. Anvy – the fact that the dorsal fins have a heat thermo-regulator is really cool and the tongue is also cool. Dr. Hill enjoyed channeling Kathleen – the dolphins were circling me and playing with my fins like we've seen them do to Kathleen in the early morning. Emily thought the coolest part was when you first got in the water and did not see anything and then all of a sudden a dolphin was in front of you and it was AWESOME!
Soil sample analyses, review of dolphin video and a lecture on nighttime adaptations on the reef filled the rest of our afternoon. And, our evening wrapped up with a night snorkel on the west side of Bailey's Key. It was awesome and we overcame lots of fears (of the dark, fish and doing it all underwater). We saw a giant octopus partially hidden under a coral head. We also saw lots of lobsters and other fish compared with our morning snorkel on Tuesday. Our night snorkel was great and we also swam with dolphins today!
Until tomorrow,
Kathleen & StMU's "Rattlers in Roatan"
PS: Enjoying reading about this great experience? Consider supporting DCP through our current – and limited time – shirt fundraiser. Whether in a short or long sleeve tee or a rash guard, you'll look great! http://www.dolphincommunicationproject.org/index.php/shop/t-shirt-fundrasier