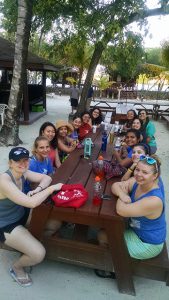 Dolphins and Dolphins – with timing help to make our scan sample observations more efficient. We had a few students from Iowa State join us to watch the dolphins! It was a very eventful morning with dolphins that ignored Kathleen and were very social – lots of leaps! Kathleen had to retrieve a dropped-in-the-water pair of sunglasses and a towel.
A wolf discussion followed breakfast – odd since we are studying dolphins. But, Dr. Karlin's presentation about red wolves was neat and we learned wolves can interbreed with coyotes. And, they form associations, which is why we were discussing them in the context of dolphin associations for comparison.
We returned to Bailey's Key for water sample collection and coral and sea grass observations – some of us took the water taxi over and six of us raced kayaks to and from data collection. Dr. Karlin was the obvious kayak race winner, much to the chagrin of all the other student competitors!
We had a tad bit of free time before lunch, which facilitated a visit to the gift shop for some, a nap for others, and a chapter read in The Prophet by Tori. Lunch was again delicious … way too much good food cooked by someone else. Enchiladas here are actually tostados. Brownies were a delightful dessert … warm and chocolaty!
Even though lunch was great, it was clear we were all a bit fried as we passed the halfway mark of our field course week. Our professors gave us a wonderful, welcome treat – the afternoon to recharge our batteries! Free Time bonanza!!
We met again at 5 PM at the taxi stand for the water taxi over to Anthony's Key for Fiesta dinner. The macaroni and cheese was worthy of second helpings by all! After eating, we all picked a crab in the crab race and even though none of our crabs won, we had the limbo queen and the dancing queen. We also enjoyed watching the Garifuna dancers who were amazing and it was great to see the cultural dancing. Garifuna were the native people and they shared their historical dances with us!
It's been a really long day but we are rejuvenated for a huge day tomorrow – we get to have our encounter and swim with the dolphins tomorrow and also a night snorkel (along with more research – wooohooo)!
Until tomorrow,
Kathleen & StMU's "Rattlers in Roatan"