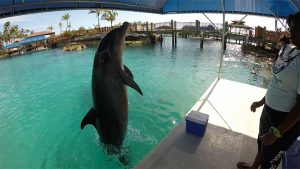 Thursday was our last day of data collection for our Innovative/Creativity study of the dolphins and sea lions at DE. It was another successful day of data collection! Here, you can see Stormy with O'Kelle during a morning session!
We had 12 sessions with the dolphins to bring all our numbers up to four trial sessions for all the females and three to four sessions each for the males. And, we were able to connect with another seven trainers to complete personality scores for the dolphins with whom they work the most.
Kathleen gave a lunchtime talk about DCP's research in The Bahamas and Dawn had a meet-greet with Nina and Zoe! This trip was Dawn's first time up-close with dolphins or sea lions. Dawn laughed quite a bit and though tentative at first, TeShalla showed her where and how to touch them on their melon, pectoral fins and fluke.
This has been a very successful field session! We are reviewing our data tomorrow before packing up gear for our return to the US.
Cheers
Kathleen, Allison & Dawn!