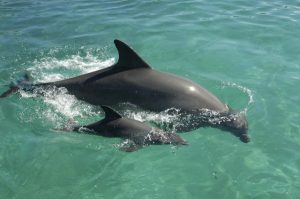 Today was a wonderfully sunny and warm day! A welcome change from yesterday. And, we collected LOTS of data: we had 36 sessions for data collection with the dolphins and sea lions. We now have 3 repeat sessions with almost every animal who knows the cue for innovate/create. It is really exciting to see the individual differences now become apparent! For example, neither Aunty V nor Stormy are "morning dolphins." They are much better creatively in the afternoons!
We also coordinated with the trainers for completion of dolphin personality scale surveys. With this information, we will be able to compare how the trainers assess the dolphins and sea lions with how our collected data suggests their individuality will show with respect to their creativity.
Allison and Dawn also gave a lunchtime presentation about the creativity testing and how we will apply the results with dolphins to studies of toddlers (that's Dawn's area of expertise). The trainers were quite interested and are very supportive of our studies. The dolphins and sea lions are also engaged and get to present new behaviors and play around with complex behaviors.
Our ride back this afternoon was louder than usual as we were on a guest boat. Everyone (us and the guests) were pleased with our visit to Blue Lagoon Island today and our time with the dolphins, sea lions and sunshine!
Because we have two more days of research, we are heading back to the island tomorrow morning early to add to our sample size!
Until tomorrow,
Cheers
Kathleen, Allison & Dawn!