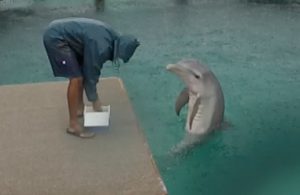 If I remember the song correctly, rainy days and Mondays get the singer down … That was not the case at DE with innovative data collection today! Yes, it was rainy, with a bit of lightning and thunder thrown in for good measure. But, the dolphins did not let rain get in their way and neither did the trainers nor us researchers! And, after a few minutes, we were just as wet as the dolphins!
Here, you see Zoe and Javon finishing a research session with innovative behaviors. We were able to record 16 sessions today – 5 with the sea lions and 11 with the dolphins. The last few sessions were wet! But, we all had fun … the dolphins especially seemed to delight in presenting new versions of some already-seen behaviors.
The weather truncated our day in half, but it was still really productive. We have more than 14 GB of GoPro data and another 38 minutes of videotape footage. We'll be back out there tomorrow … and thankfully, the forecast is predicted to be drier. Fingers crossed!
Cheers
Kathleen, Allison & Dawn!