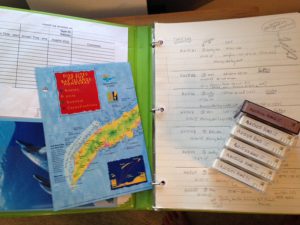 Our 2015 field session at Anthony's Key Resort's Roatan Institute for Marine Science (RIMS) was a success! We were able to collect six hours of video with the MVA2 camera as well as another ~9 hours of video with 1-2 GoPro cameras. That is, for all sessions, one GoPro was mounted above the MVA 2 facing forward to provide a wider view and greater area for confirming dolphin IDs from body parts that might be slightly out of view on the MVA camera but in range on the GoPro. And, for about 1/3 to 1/2 of the sessions, we also borrowed Bill's GoPro and placed it atop the MVA2 but pointing at me/behind me. This allowed us to see who might be behind me!
Yes, it is true, there are times the dolphins are more playful than I want them to me … with me! They pull at my fins and circle swim around me and the MVA2. With the added view behind me, I can tell when a dolphin is there, while doing analysis!
We began confirming IDs from the video tapes on Roatan, but the video logging will begin in earnest later this week. I'll also go through the tapes, and still images, to draft sketches of all 20 dolphins we observed last week. Though the analyses takes much longer than data collection, I really enjoy this part of the process. It's where patterns become evident in the data!
We'll provide an update on data processing in the next two issues of the Dolphin Gazette! And, I'll continue to swim laps and practice my yoga (thanks Joy – www.prananda.com) to keep myself in shape for following dolphins in the spring (returning to RIMS in March 2016 with a student group!).
Thank you for your support!
Cheers
Kathleen & the DCP RIMS 2015 team!