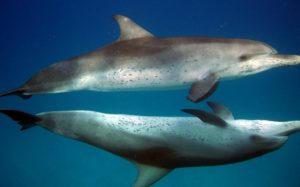 On Friday we were happy to see Kel back on the boat and feeling a bit better. The Bimini Adventures' course and DCP had a wonderful day starting right away with about five bottlenose dolphins sighted near the harbor exit. They were found close to the boat in shallow water and disappeared after surfing another boat's wake! We went on and continued our searching in the deeper water. It was a warm day so we took a refreshing swim break and then returned to our dolphin search.  
We soon sighted six spotted dolphins including two calves. It was great to see them bow riding and leaping. Some were peering up at us on the boat as others were riding belly up. We entered the water to get a closer view of their behavior of gathering at the sea floor in a group as they cruised on their way. 
We briefly saw two more spotted dolphins before coming upon saw six young spotted dolphins including Inka (#93, pictured here). We had the chance to observe this group under water and saw lots of mating behavior, chasing and belly to belly swimming. The clouds were building in the east, but a beautiful rainbow spread color across the sky. Some of the students wanted to take a picture of a dolphin with the rainbow, but as you can imagine, this was easier said than done! 
On the way back to the harbor we even saw 6 more bottlenose dolphins! We unfortunately didn't have time to spend with them as the sun was setting, so we continued into the harbor. This was the last night for the New York course and we wished our new friends a safe travel home.  
All that splashes,
Ellyne, Kali & Kel