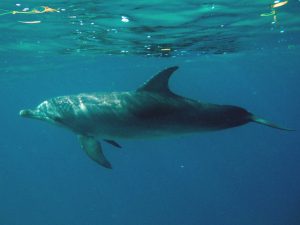 Wednesday was a busy day for DCP interns Kali and Ellyne. With their fearless leader Kel home recovering from a voice-stealing cold, they stepped up to take over the day's duties. First on the list was to give a presentation to a new group of students aboard the Coral Reef II, participating in Shedd Aquarium's high school marine biology program. The students were highly engaged in the lecture asking many questions as the presentation went on. Some of these included "how big do bottlenose dolphins get" and "how do you get involved in working with dolphins?" The first question we had to reference the marine mammal guide, as neither of the interns knew the exact answer. We were all surprised to learn the average length was twelve feet! The students shared with us that they had encountered some bottlenose dolphins the day before. Some agreed that twelve feet made sense while others shook their head in disagreement. It became quite the discussion. We encouraged the students to stay in touch with DCP as well as to reach out to researchers and their local aquariums with their interest in dolphins. Kali and Ellyne were happy to see high levels of interest as they left the boat for home. 
In the afternoon the interns took off for their next boat trip with Bimini Adventures. It has been a busy week but everyone was still enthusiastic to go out and find more dolphins. We were hoping for more calm weather like previous days but the wind picked up from the southwest giving us a rockier boat ride than expected. We kept our eyes open and tried to search through the waves. Some of the guests have begun to think that one of the interns, Kali, has the power to summon dolphins (we wish!). Only two spotted dolphins appeared today showing some inconsistency in her alleged ability.  The two dolphins bow rode with the boat for a bit, zooming back and forth underneath the boat. We were able to have a short encounter with the dolphins. Eventually though they disappeared off into the distance, but not before we noticed one of the dolphins was a juvenile, missing a large portion of her left fluke. This dolphin has been seen previously during this season and we are looking forward to adding it to DCP's photo-ID catalog. 
Those were the only pair of dolphins to be seen on Wednesday but the students entertained themselves on the bow with an assortment of "camp-like" games to pass the time while searching. Each just as silly as the next, the students left the boat laughing with an assortment of new jokes from the day's adventures. 
Preparing for more fun and more dolphins,
Kali, Ellyne & Croaking Kel