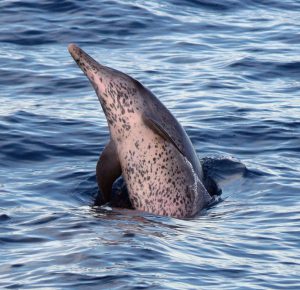 On Sunday we had very calm placid water as we started the day in the sunshine. The calm water aided us in seeing dorsal fins in the distance and we had our first sighting quickly – only a half an hour after leaving the dock! We first sighted eight spotted dolphins, including, we think, Niecey (#48) and un-named #102. As we entered the water we were among young-adults and adults, it appeared that one of the dolphins was near the sea floor in a horizontal position barely moving; could this dolphin be rubbing on the sea floor we pondered…  
About 40 minutes later we came across our second sighting of seven spotted dolphins which then increased to 12 dolphins including, we think, Freckles (#15) and un-named #99. In this group there were at least two calves bow riding and leaping. As we joined the dolphins in the water we observed two mothers and their calves nursing.  
During another encounter (our term for an underwater observation) we observed a large gathering of dolphins where we witnessed an adult jawing at another adult dolphin and a younger dolphin. Meanwhile at the same time at the surface, there was a fish tossed out of the water and the students on the boat weren't sure if the dolphins were feeding or playing with the fish. It was interesting to compare observations above and below the surface of the water to attempt to understand what activity was really occurring.   
The Bimini Adventures students, Kali & Ellyne enjoyed a great day with the spotted dolphins for two hours (which including capturing the great aerial display from Noodle, #94, pictured here!) and had five amazing underwater encounters with them. We all had smiles on our faces as we headed back to shore on one of the best sighting days so far. We hope to continue our good luck streak as Kel will be joining us on the boat tomorrow. We ended the night with listening to a great lecture on the local Bimini dolphin whistles by Dr. Kaplan. Kel was excited to hear Daisy discuss this topic, which includes lots of details about some specific dolphins in the DCP Bimini ID catalog!  
All that splashes,
Ellyne, Kali & Kel