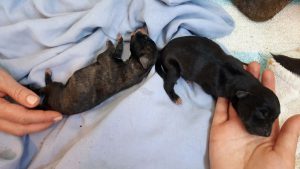 On Saturday we started the 4th of July off with a dolphin lecture aboard the Coral Reef II (Shedd Aquarium). We took a small dingy out to the boat and we were happy to teach the Chicago area high school students about DCP and the spotted and bottlenose dolphins found off Bimini. The students had great questions about the local impacts of construction and the dolphin population and interspecies mating. They enjoyed posing for photos with the mini MVA camera system. We also discussed the difficulties of studying wild dolphins and photo ID. 
We spent the rest of the day volunteering at the vet clinic in Bimini. There isn't a vet on either of North or South Bimini islands so a veterinarian travels from Nassau several times a year to care for the dogs and cats in Bimini. The veterinarian set up his clinic in the kitchen of a house and the volunteers from DCP and Shark Lab aided in running the office work and assisting in surgeries. The clinic even rounds up island strays to spay and neuter them. We learned a great deal about surgery procedures and vaccinations. It was an amazing experience to assist in the spay and neuter operations. It was great to help these animals that need care and prevent problems in the future. A new mother was brought in with her two tiny puppies that were only two days old. The mother was very skinny and dehydrated as well as dirty. Unfortunately, the rest of the large litter did not survive and the current two puppies were weak. We tried to get the puppies to nurse but ended up bottle feeding them with a can of goat's milk. With permission from the owner, the Shark Lab was kind enough to offer to foster the puppies until they became strong enough to either return to their owner or potentially be placed in new forever homes. Another volunteer purchased a stockpile of dog food, which was sent home with the mother-dog to help her regain her strength. Sadly, one of the two puppies passed away before the day was through…Though we are hopeful the second puppy will pull through, and that the mother will recover, we know their chances are slim. 
Despite the sad endings to some of the animals' stories, we are lifted by the positive ones and know that there are so many other dogs and cats that will be helped in the future. We enjoyed the evening of the 4th of July with all of the visitors as the island filled with people with many parties and fireworks.  
All that splashes,
Ellyne, Kali & Kel