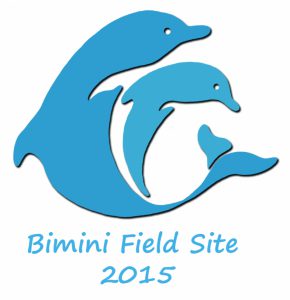 On Saturday, our main class session was a guest lecture from Dr. Dudzinski. Dr. Dudzinski spoke about social living. We chatted about the difference between the word "pod" and "group," with pod requiring the genetically relatedness (like matrilineal groups in killer whales). One of the first things she showed us was a video of bottlenose dolphins interacting and she asked us if we thought it was play or fighting. Most of us thought it was play – but nope! It was an aggressive interaction. This brought up the topic of how difficult it can be to distinguish between the two. We also discussed infanticide, not just among bottlenose dolphins but also in comparison to lions. She discussed DCP's study on pectoral fin contact among different dolphin populations: RIMS, Mikura Island and The Bahamas (WSR and Bimini). Dr. Dudzinski explained things very well, was fascinating to listen to and had us all geeking out a bit to have her here in Bimini with us. 
After lunch, we took a short walk to meet Sailor, the parrot at Weech's Dock. He is so cute! Then, we headed out on the boat and did a shoreline survey, searching for dolphins in the lee. With no dolphins in sight, we headed to the coast of South Bimini to "Shell Beach" (unofficial name) for a snorkel. We saw lots: a pufferfish, a sea slug, stingrays, a giant sea urchin, a squid, an eel and a lobster. The captains protected us from an irresponsible speed boat that recklessly cruised by and then, back on the boat they let us jump off the bow into the water! With anchors up we enjoyed our snack of grapes and pretzels and then cruised slightly north for one more check of the North Bimini shoreline. With no dolphins in sight, we headed back to the dock. With strong wind and flip-flopped lines, our crew did a great job getting the boat into its slip! 
Before dinner, we explored some more, with another visit to Sailor and exploration of the Southern Cemetery and the Galant Lady. We enjoyed the sunset and then Edith's pizza! We topped it off with ice cream and a movie. We watched BBC's "Spy in the Pod." We liked the spy turtle, but we weren't sure about the other spy creatures!  
Until tomorrow,
Colonel Potcakes (EKU 2015)