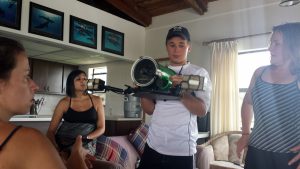 On Thursday, we woke once again to an ocean-themed quote on our refrigerator courtesy of Dr. M. After breakfast and writing our field report, we discussed DCP's MVA. It was very impressive that when technology for a research project did not exist, Dr. Dudzinski and her advisors solved the problem! Dealing with sound traveling ~4.5x faster under water makes identifying which dolphin is making a vocalization very difficult. The spaced hydrophones on the MVA help solve this problem. After our chat, we even got to hold the MVA4! And, we discussed how the system has changed over time; the core design does not change, but as cameras shrink and new ideas for functionality in the field pop up, the system gets improved. All of our conversations about DCP led us to the message that DCP does not think dolphins are the most important creatures in all of the oceans. But, since the public loves them so much, by (hopefully) inspiring people to protect dolphins, and therefore their ocean home, all other organisms in the sea will also have their habitat saved.  
In addition to the MVA, we also discussed DCP's very thorough ethogram and this brought back our class on sampling methods. It is amazing that one hour of video data can require so many hours of analysis, from identifying your study individuals to asking specific research questions.  
After lunch, we had some free time to explore. Some found ice cream, others found conch shells and some worked on their haggling skills. Even one of the women at the straw market reminded us that we cannot touch the dolphins! The two freight boats, one from Fort Lauderdale and one from Nassau, arrived today so we saw the hustle & bustle associated with everyone getting their goods. The island was also buzzing because it was a cruise ship day and high school graduation. We left behind the busy streets and departed the dock at 1500. It was the roughest day yet, but it was still fun! When we were on the bow, the sea spray kept us cool, but when we were on datasheet duty we experienced the rocking bridge. We watched Captain Kat and the DCP team – they hardly moved in the swells! We saw lots of flying fish and enjoyed our classmate's laughter! But alas, there were no dolphins – well, we could not see them anyway. Still, we are optimistic about our future trips! 
After we got off the boat, we met a little potcake puppy. Kel is hoping she'll get to see this pretty girl to tell us more about her. We enjoyed dinner and soon went to bed. We need to be ready for tomorrow! 
Until then,
Colonel Potcakes (EKU 2015)