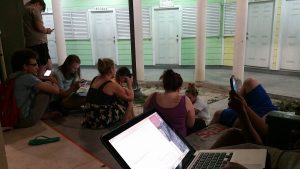 With our course with Sacred Heart University just a day behind us, Nicole and I welcomed 14 students from Eastern Kentucky University (EKU), and their professor, Dr. Radhika Makecha, to Bimini! They too will be here for 12 nights, learning about dolphins and experiencing Bimini. We hope you enjoy reading their field reports!
-Kel
PS: Their mascot is the Colonel! 
On Monday, with not much sleep behind those of us who traveled from Kentucky, we began our journey to Bimini. It was the first time flying alone about half of us, first time flying at all for another and first time flying on such a small plane for many of us. The airport upon arrival was surprising: the airport was so small and a jokester immigration officer teased that he needed to take our passports! On the way to the water taxi, we saw our first Bimini "potcakes" (island mutts) and were amazed at how blue the water is! The water taxi was the first time on boat for one of us! We arrived at the Sea Crest at got settled in before we headed straight to the ocean. We snorkeled on the beach for about an hour and we saw a possible barracuda, sea urchin and lots of little jellyfish.  
Back inside, Nicole shared information about DCP and the two different species of dolphins we hope to see during our time in Bimini. Then, we discussed DCP's in press article on dolphin sightings just off the Bimini coastline. It was interesting to connect the baseline data with the changes that are happening here on Bimini right now. Seeing the maps and the route of the boat each day gave us a good understanding of what we will be a part of. It was also cool being in the classroom with one of the authors! 
After class, we enjoyed dinner. Then, we had a "wifi party" at the local straw market (pictured here) and made sure we peeked to the west to see the lights of Miami on the horizon. While there, we saw a huge crab on the beach and, of course, lots of lizards. We went to bed wondering what tomorrow will bring! 
Until then,
Colonel Potcakes (EKU 2015)