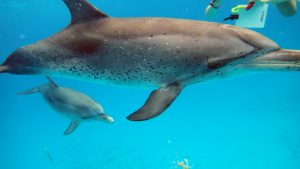 With no readings due for Friday, we woke refreshed. After breakfast, we had a tour scheduled instead of class. We met up with Ashley Saunders, who showed us around his "Dolphin House." It was so cool the way he burns the conch shell to make a mortar; with a few other natural ingredients, this becomes a great adhesive to put his mosaics on the wall. He talked about how economical it was to build this house, using natural materials and gifts from guests – which we are going to do as we find broken pottery and tiles during the remainder of our trip. Mr. Saunders got the idea after he saw the dolphins and became inspired. The inside was just as interesting as the outside! Next we saw his small gift shop and museum with all of his various interesting artifacts. From pirate hats to driver's licenses, there was a lot to see, including his in-progress 3rd floor. Without specific architectural or design training, he is clearly a man of many talents. We then saw the Methodist Church; it was built from an old ship in the 1800s and is the oldest building on Bimini. The last stop was the Marlin Cottage. Now part of Blue Water Resort, but the cottage was where Ernest Hemingway stayed.  
After the tour, we took a quick break and headed to Sherry's Beach Bar for conch salad. She got up special, on her birthday, to make sure we had enough to try. Nearly everyone tried, and liked the conch salad, and there was a vegetable salad for others.  
A swim was up next, before we were back in class for photo-ID. This time, we started with bottlenose dolphin dorsal fins. For many of us, we found the dorsal fin IDs harder than the spotted. Perhaps this is because we only had the dorsal fin to work with, compared to underwater images of spotted dolphins which allow us to consider the entire body. A "clean" or relatively unmarked dorsal fin is the hardest! Still, we were able to recognize Tt06 and Tt15 from Monday's dolphin trip. Then, we switched to spotted dolphins – and we felt a familiar groove. This time, we started with a surface picture of a spotted dolphin and recognized the distinct dorsal fin notch of Stefran(#82). Our first underwater image in need of identification turned out to be Stefran again. But, with her dorsal fin and fluke not clearly visible, it reminded us how important it is to consider the entire dolphin's body. In both photos, we could see Stefran with a small calf. That, combined with swollen mammaries, is supporting our hypothesis that she has a new calf this year! Our final dolphin in need of matching was Cerra (#38). For her, we noticed her smaller dorsal fin notches and her spot patterns. 
Our boat trip departed at approximately 1500 and the seas were definitely choppier than yesterday's postcard flat day. Still, we were optimistic in our search and shortly after 1630 came upon Atlantic spotted dolphins. There were initially at least four dolphins, scattered and surfing the waves. They would take a break from surfing to come ride the bow of the boat and then go back to surfing. Were they conflicted over which was more fun? We saw two different fluke slaps from older dolphins and a big breach from one of the youngsters. We decided to give an underwater observation and were pleased that the two younger dolphins stuck around. Both dolphins were juvenile females, but one was clearly older (more spotted) than the other. (Spoiler alert: In class tomorrow we will ID the older spotted, pictured here, as un-named #101!) We could feel the pull of the waves and could see how the agile dolphins enjoyed surfing. The dolphins were moving very fast and came very, very close to us. Then, they would be out of view and we didn't know if they were gone. Instructions came from the boat to hang tight and sure enough the pair of dolphins would surf back to us a minute later. We saw the dolphins go to the sea floor and wondered if they were crater feeding. Nicole and some of us got a better look and could see that they were playing with a fish and sea weed. Others saw sea grass play closer to the surface. This was not mutual object play (the two dolphins playing with the sea grass together) but rather solo object play. We saw a few bubble bursts from the young dolphins as well. Nicole was graceful in the water, make quick adjustments to keep the dolphins in the MVA's view. Back on the boat, we crossed paths with the dolphins again, but could not keep them in our sights. We continued to search on our way home, with some of us getting a quick glimpse of an elusive dolphin, but then we headed in. But not before collecting a bright blue balloon from the sea! 
Back on shore, we cleaned up before a surprise dinner from Ms. Stephie. The mac and cheese was awesome! We cleaned up and rested and then ended the day with ice cream and BBC's Inside the Animal Minds. We got to see Kel, Al and Dr. Dudzinski in action in the social episode of this 3-part series. There were lots of interesting dolphin – and other animal – facts, including the hypothesis that as the dolphins' ancestors became smaller, they had to join together into more social groups. As the demands of social living changed, their brain size increased. We've been learning so much, we can't wait to see what our final full day brings! 
Until next time,
The PEDuncadunks