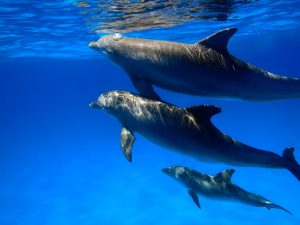 Though our time with "The Giants" film crew was scheduled to end on Friday, the team requested an extra morning trip on Saturday. Bimini Adventures and DCP were happy to oblige! After collecting fresh SCUBA tanks, we departed the busy Bimini harbor shortly after 9 a.m. Though DCP never uses SCUBA when observing dolphins, and neither do Bimini Adventures' tourist passengers, exceptions are sometimes made for film makers looking to get that perfect shot (with heavy camera equipment!). 
There was quite a bit of boat traffic as US Memorial Day weekend brings lots of boaters to Bimini, but this thinned out as we got farther from shore. The weather was still on our side and we were all optimistic that the real final day with this crew would be a successful one. No one was disappointed! In clear, Bimini blue water, under sunny skies, we came upon six bottlenose dolphins, all eagerly crater feeding. The crew did their thing, undoubtedly getting lots of great shots of the hungry dolphins while we focused on surface observations and photographs. When the film team was in need of new tanks and batteries, we got a chance to go in ourselves. While Nicole collected still photos and Kel recorded video, two mother/calf pairs joined the group. One calf was definitely female and both were busy shadowing their mothers as they searched for food in the sand. Soon, we swapped places with the film crew as they continued their recordings.  
Once the tanks were empty, memory cards were full and all were happy, the two members of the film team who focused on surface shots each day donned snorkel gear and got in themselves! Nicole joined, recording video this time, and everyone returned to the boat with smiles on their faces. For the film crew, there is lots of editing ahead of them; for us, lots of photo sorting, data entry and video logging. We couldn't be happier! 
After some much needed rest on shore, we connected with the crew one last time. We got a glimpse of their footage from today and it is fantastic! We are happy to have been a small part of making their Bimini shoot a reality – and hopefully helping inform the scientific accuracy of that portion of their project. 
Sunday will be a quiet day for us, as Monday will bring final preparations for our field course with Sacred Heart University! 
Until then,
Nicole & Kel